2017/12/24 – To: Her Ladyship Helen Mary Stewart-Wilson
Since yesterday 5.50PM the pictures, as now on the blog to show off the Christmas tree & decorations @ P.P. & C.L., are on their way to your phone. Angel Luke regrets, that probably the size of the files is too large for the internet service @ North Curry. Compared to Hotel de l'Europe it is a disaster. Only a single line gets through, as I have seen. We wish you and your beloved ones  very nice holidays with family and friends. The service @ St Peter & Paul will be great.
XXX,
2017/12/17&18 – Lady Helen Mary & Belinda visit Amsterdam
2017/12/15 – Lady Helen Mary & Belinda
Christmas market in Hamburg (Germany)
2017/12/10 – Lady Helen Mary
Second thoughts I think YOU should decide on who gets what XXX 12:01
2017/12/09 – Lady Helen Mary
As I understand on the blog today you flew to Athens for an hour??? C.L. you are strangely loveable!!! Please can I choose the triple set. I have to wear two bracelets already… but may be I am not seeing the joke!!! XXX 17:22
2017/12/07 – Lady Helen Mary & Belinda
At 33,000 ft in the air I thought about you: presents as a welcome gift in the Amstel Hotel. They come from Buckley in London. You can fight about "who gets what" 🙂
In the brochure:
In real:
In the brochure:
In real:
2017/11/29 – Lady Helen Mary & Belinda
PTA & IHG Amstel Hotel, Dec. 17/18 2017
Passenger Terminal Amsterdam
2017/11/27 – Belinda
After Jay added hair removal cream to Will's pubes, it get's to the moment where Daisy and Will are alone and the truth get's revealed.
2017/11/24 – Belinda
Belinda is seeking a husband, as she says several times during the interview…
2017/11/21 – Belinda
An overview in 30 seconds of Belinda Stewart-Wilson's early years.
2017/10/24 – Lady Helen Mary & Belinda
I dare say, that I do not hate women (in general). However the way they behave is -even for a f.o.d. pur-sang -sometimes an enigma.

TOP: Black Watch @ PTA Amsterdam.
LEFT: Lady Helen Mary Stewart-Wilson.
BOTTOM: Belinda Stewart-Wilson.
The original setting for the overnight in Amster-dam, December 17/18 2017:
the ladies on board the Black Watch in a cabin on deck 5, without BATH (=holy) -facilities 😦
Luke at his sisters' 🙂
Luke changed from his siters' to the Mövenpick hotel next to the cruise terminal.
Recently the Intercontinental Amstel Hotel attracted him more…
Her ladyship then asks herself: "Why is he moving away from the ship?" As if I could spend a jolly night in Amsterdam Gay nightlife…
She sends an email to her private travel agent CL… 🙂 😦 🙂 😦
Travel agent CL contacts immediately Intercontinental Amstel Hotel. There is an offer which lasts only 24 hours:
KING BED EXECUTIVE ROOM CITY VIEW
35 sqm or 377 sqft. The rooms overlook the square. They are laid out in classic French style with large double windows a spacious marble bathroom with cascade shower and separate bath. Each room is air conditioned and is very well equipped. Enjoy the homely character.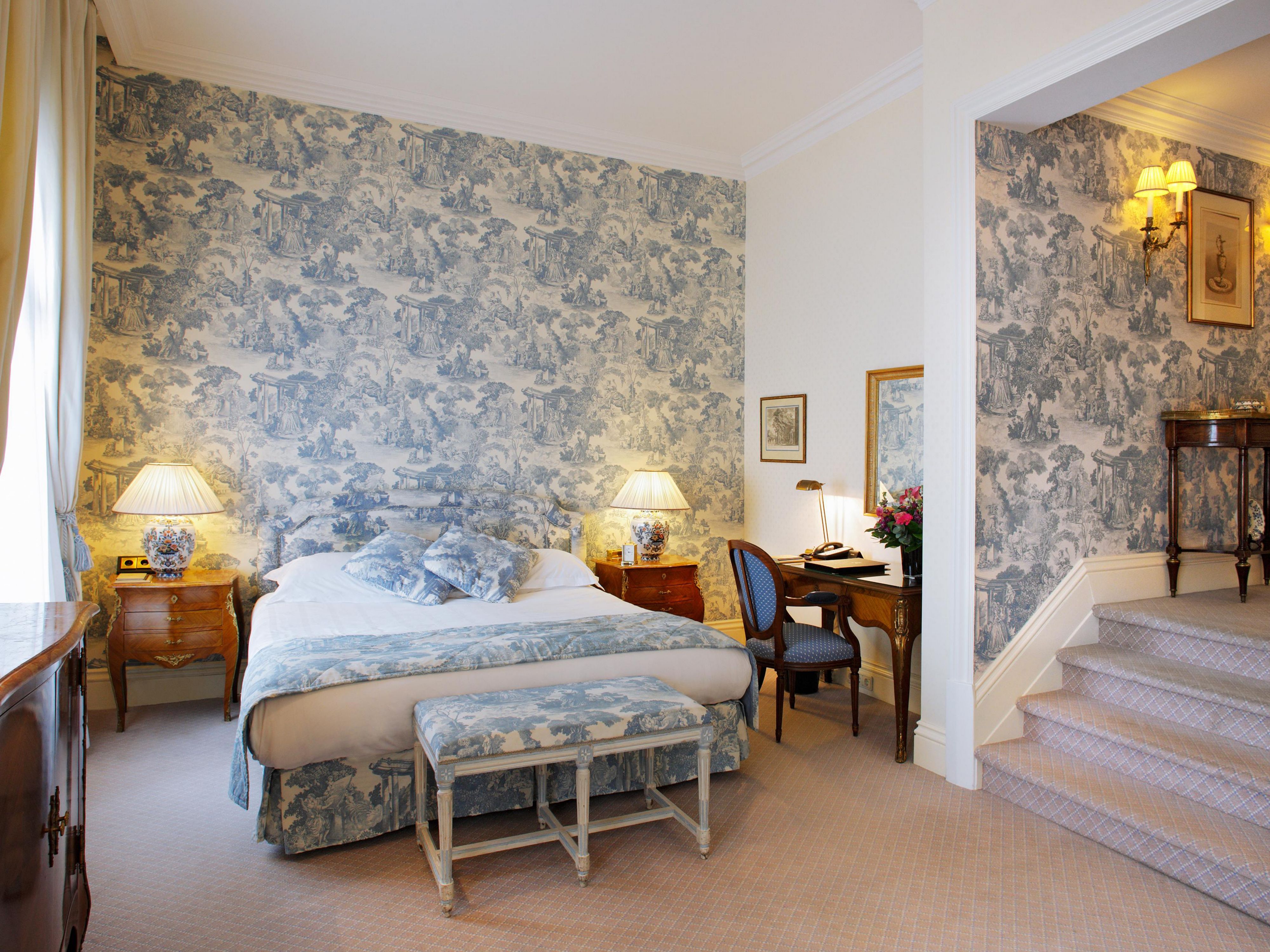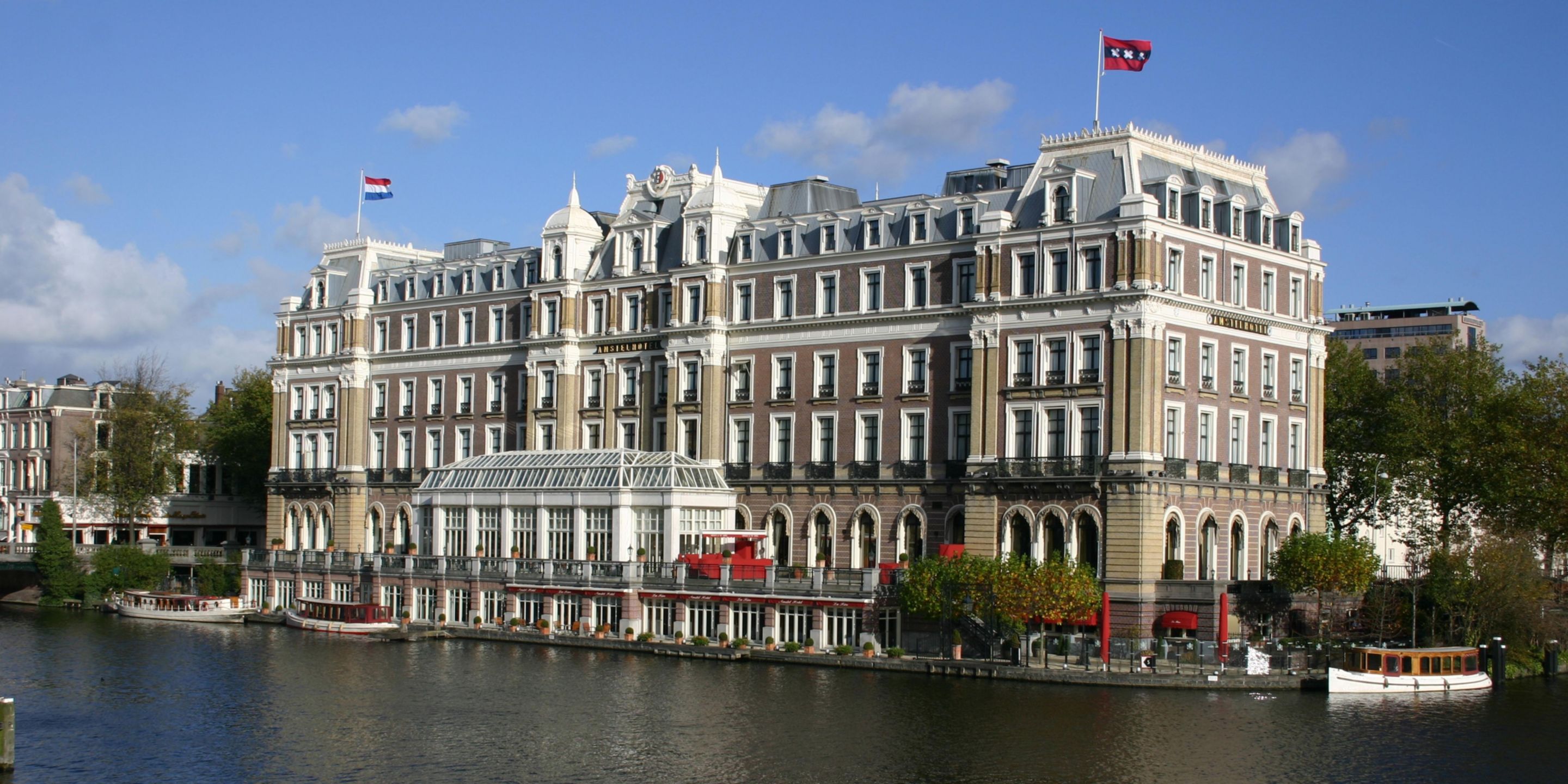 2017/10/20 – Belinda
The worst mums on TV
In Betweeners: "She is well fit," drool Will's mates about his mum, played by Belinda Stewart-Wilson, whose father is a former equerry to the Queen. Being fit is not something desirable in your mum, especially if you are a teenager.
2017/10/17 – Atholl Highlanders Parade with Pipe Band at Blair Castle May 2016
Atholl Highlanders Parade on the forecourt of Blair Castle on Saturday 28th May 2016, under the command of RSM Graham Jack. Present is:
His Grace, The Duke of Atholl,

Commanding Officer Lt Col James Murray and

Parade Commander

Major Aubyn Stewart-Wilson
Dedicated to Lady Helen Mary Stewart-Wilson Fox
2017/10/16 – Lady Helen Mary
Perhaps not entirely the accomodation she is used to, but this a fair alternative to learn Belgium and The Netherlands better. And… the trip is organised by The Telegraph!!!
Emerald Star
Launched in 2014, the Emerald Star is airy, sleek and comfortable with all the facilities and features you would expect from an upmarket boutique hotel. It offers four cabin grades, all featuring an en-suite bathroom, entertainment system and individual climate control. There is a 258-square-foot heated swimming pool with a retractable roof allowing it to transform into a cinema at night; a sun-deck equipped with a walking track, mini-golf putting green and games area. You will also have the opportunity to relax and unwind in the ship's Wellness Area, which offers a range of massage, facial and manicure treatments, and make use of the on-board hair salon and gym. There is a range of dining options including the Reflections Restaurant and the Horizon Lounge, and a variety of evening entertainment, from film showings to trivia nights and swing dancing.
2017/10/11 – Lady Helen Mary & Belinda

The first day -December 17, 2017- has been planned for the visit of her Ladyship Helen Mary Stewart-Wilson and her daughter Belinda Stewart-Wilson. The vessel Black Watch will arrive at approx. 04 GMT+1 at the PTA in Amsterdam. Very convenient, as it is next to the Mövenpick Hotel. Upon arrival, the ladies will be welcomed by me at the terminal, and then we hop over to the Ambassador Suite in the Mövenpick Hotel for drinks and extended welcome ceremonies. 
At 7.30 the restaurant "La Rive" in the Amstel Hotel awaits us for a dinner at one of the most famous residencies that Amsterdam has, as Heads of State and famous artist reside in the Amstel Hotel. 
After dinner we return to the Black Watch for a nightcap 🙂 but we shall have a busy day om Monday 18th: on Monday morning all shops in the Netherlands are closed, but there is the Hermitage and Van Gogh Museum to visit in the morning…
2017/10/12 – Lady Helen Mary & Belinda
La Rive restaurant asks for Ladies: evening- or cocktail dress and for gen-tlemen: tuxedo or dinner jacket.
Top: Lady Helen Mary Stewart-Wilson. Formal dinner in the Orchid Room, Black Watch, June 2017.
Bottom left: Belinda Stewart-Wilson.
Bottom right: Luke Barkhuis. Formal dinner in the Orchid Room, Black Watch, June 2017.

2017/09/21 – Lady Helen Mary
While the Companions Pierre and Luke enjoy themselves in Valencia (Spain), Lady Helen Mary hops over to Scotland to spend some days at Prue's, her sister-in-law. A video impression composed from the WhatsApp-messages which came in at the most awkward moment…
2017/09/18 – Belinda
No wonder they call her Will's fit mum! Belinda Stewart-Wilson, 43, wows in form-fitting dress with plunging neckline as she steps out at Inbetweeners 2 premiere. As Will McKenzie's mother Polly, she's shamelessly lusted after by his hormone-charged pals. But on Tuesday night, Belinda Stewart-Wilson proved she's also worthy of such attention in real life as she stepped out at The Inbetweeners 2 premiere in London. The brunette beauty, 43, turned heads at the Vue West End in a form-fitting black and red colour-blocked dress, which showed off her alluring frame with a plunging neckline. With her wavy hair worn up in a bun, the actress complemented her natural beauty with just a light brushing of make-up.  She accessorised with a pair of dazzling starlight earrings, which she matched with a large ring on her index finger. The mother-of-one, ex-wife of comedian Ben Miller, finished off her sexy ensemble with a sparkly clutch bag and a pair of black patent leather heels. Following the screening of the film – which also stars Simon Bird, Joe Thomas, James Buckley and Blake Harrison – Belinda joined in the fun at the after-party at nearby Aqua. In 2010, the screen beauty made many Inbetweeners fans' dreams come true when she stripped down to her lingerie for a racy shoot for FHM magazine. Belinda, who is often referred to as 'Will's fit mum' in the TV version, revealed in the accompanying interview that she doesn't mind being considered a sex symbol.
Well, doesn't Will's mum look incredible!
We think Belinda Stewart-Wilson just oozed effortless poise and elegance in this form-fitting frock from Deadly Is The Female (nope we hadn;t heard of them either) at The Inbetweeners film premiere last night- she certainly gave the younger cast a real run for their money! Her dress' stretchy crepe material combined with the red and black colour block design emphasised her curves expertly whilst a dramatic collar and plunge neck lent the look a flirty appeal. It was the perfect marriage of sassy and sophisticated and can be yours by clicking right… A red and black dress is always going to be an after-dark must so if you want to bring out the wow factor like Belinda then why not shop our pick of scene-stealing styles below? From lace detailing at Dorothy Perkins to cami straps at ASOS, these chic dresses scream understated glamour. Just slip on a pair of killer heels for a streamlined finish.
She said: 'I think the fascination with older women comes from the belief they know something you don't. I think with The Inbetweeners it's all in the boys' imaginations, they're so rude about her. 'She's not really a prostitute or a stripper, but in their heads she's all of those things. She's become incredibly popular by doing very little.' Shockingly, the actress also revealed that she chose to go into comedy because she never considered herself to be much of a beauty. She said: 'I was never very good looking – I had my jaw pulled forward, I had a squint and a patch over one eye to straighten it up – so I thought I'd make people laugh to get them on my side. I thought it was quite cool though, as I was sure I looked like a pirate.'
I must say, that the comment of the actresses's mother was Most Surprising:
'The "Meet my wife" is also very funny'.
I dare NOT contradict her Ladyship, but the content of the video is rather doubtful. Especially for a Lady!!!
2017/09/17 – Belinda
To prepare myself on Belinda's forthcoming visit to Amsterdam, I Googled and found  on YouTube a video, where she has exactly the voice of Lady Helen Mary Stewart-Wilson.
2017/09/10 – Lady Helen Mary & Belinda
THE FOURTH CRUISE ADVENTURE FOR HER LADYSHIP IN 2017:
SOUTH AMERICA (JANUARY – 77 NIGHTS),

SPAIN & FRANCE (MAY – 16 NIGHTS),

AMSTERDAM (AUGUST – 3 NIGHTS),

HAMBURG / AMSTERDAM / ANTWERP (DECEMBER – 7 NIGHTS). 
PLANNING THE OVERNIGHT STAY IN AMSTERDAM: SUNDAY DECEMBER 17, ARRIVING LATE PM TILL MONDAY DECEMBER 18, DEPARTING LATE PM.
Sail to Germany, the Netherlands and Belgium at the most wonderful time of the year aboard Black Watch and immerse yourself in the warm yuletide spirit of three enchanting cities – the perfect way to celebrate the arrival of the festive season. 
Docking first in Hamburg, indulge yourself with delicious traditional treats such as gluhwein and lebkuchen at the city's world-famous Christmas market, where you could also pick up hand-made gifts; and admire the stunning architecture of the city's historic Rathaus. Alternatively you could explore the city on foot to see the sights, including the steeple of St. Nikolai Church and the Chilehaus; or even enjoy a relaxing boat ride on the beautiful Alster Lake. Next Black Watch will cruise the Netherlands' impressive Nordzeekanaal before docking overnight in Amsterdam, the Dutch capital. This charming city comes to life at Christmas, and you'll have time to wander the along the picturesque canals lined with twinkling lights and decorations; and sample the exciting festive atmosphere at the busy markets. Make the most of your time here and visit world-famous attractions such as Anne Frankhuis and the Van Gogh Museum too before sailing on to Antwerp. Stopping overnight in Belgium's second city, you could purchase last-minute gifts at the famous chocolate shops or in the sparkling diamond district; or even take a short trip to Brussels and visit one of Europe's best Christmas markets at the beautiful Place Sainte-Catherine.
2017/08/30 – Archibald
Archibald Blair Cecil Young, 
HM Queen Elizabeth's First Page of Honour (2002-2004), married recently in Australia.
Congratulations, Archie!!!
2017/08/12 – Lady Helen Mary & Alice
A family reunion
As Mary's younger daughter Sophy McIntosh was also in Amsterdam, staying with her husband Alistair (Bruce) and two daughters in the Ambassade Hotel at the Herengracht (Canal of the Lords 🙂 ) it turned out te be a complete reunion. Pierre and I had met Alice and Jonathan the first time that we were in Somerset.  I had met Sophy when I was nursing Mary for her cataract. Pierre and I met the entire McIntosh family when we were in Somerset for Easter. Afterwards I met Sophy again when I was nursing Mary after her pacemaker implantation.
The McIntosh family had travelled by Eurostar (London – Brussels – Amsterdam).
The picture above has been taken by the barkeeper of the Ambassade Hotel. Clockwise, starting a the front: Alice Young, Lilly McIntosh, Sophy McIntosh, Bruce McIntosh, yours truly, Pierre Bormans, lady Mary Stewart-Wilson, Kitty McIntosh.
Picture taken by blog writer. From left to right: Pierre Bormans, Lady Helen MaryStewart-Wilson, Kitty, Alice, Lilly, Sophy & a foot of Bruce McIntosh.
And then in a hurry to the Begijnhof, to see at least a bit of Amsterdam, after the disaster at the Van Gogh Museum: lighting a candle in the chapel. Then in a hurry by tram to the PTA, via the Central Station.
2017/08/11 – Lady Helen Mary & Alice
According to the schedule, the Black Watch arrived at 10.00h at the Passenger Terminal Amsterdam. Mary had sent a SMS around 08.30h, that we had better meet at the PTA at 10.30h. As we stayed with my eldest sister, she brought us by car in 20 minutes to the PTA, but… at 09.47h a new SMS: "10 o'clock now perfect", as not the tour passengers got priority getting off the ship, but instead the individuals, as Mary and Alice. We arrived at 10.10h. The program for the first day in "Holland" was more or less fixed: travelling by train to The Hague, with as major goal: The Mauritshuis, Houses of Parliament, and some shopping. For Mary and Alice I had bought Dutch public transport cards (trains, trams and busses). Very convenient, as the ladies could travel in style with an upgrade to first class, and then got a 40% discount travelling as my companion (I can take 3 people travelling with 40% discount per voyage).
2017/04/28 – Nursing Lady Helen Mary, day 8
Driving to hairdresser in Taunton. 🙂 Not too bad! You must be thankful to be home for a space. I am so grateful for PP's generosity and to you for loving care XXXX 🙂
Friday 06:19pm
Feel free to blog this message to the world!!!
Friday 09:29pm
2017/04/26 – Nursing Lady Helen Mary, day 6
the day after… 🙂
Mary went to bed straight after dinner,

I cleaned the remainders of a nice dinnerparty,

filling up the dishwasher,

lying out the breakfast table,

at 10:00pm I went to bed as well,

far too early,

I was awake at midnight, 

04am and 06am,

at this moment it is 07am sharp,

I have sent pictures + recipe of the Chili to Joan,

an email to Pierre about the Chili dinner and when to expect me tomorrow evening.
NORTH CURRY: WEATHER FORECAST – WEDNESDAY 26 APRIL 2017
MORNING: SLEET 7°C, FEELS LIKE: 5°C
AFTERNOON: PARTLY CLOUDY 11°C, FEELS LIKE: 10°C
EVENING: CLEAR SKIES 6°C, FEELS LIKE: 6°C
NIGHT: CLEAR SKIES 3°C, FEELS LIKE: 3°C
WEDNESDAY: G  A  R  D  E  N  I  N  G
🙂 🙂 🙂 🙂 🙂

IN FULL SUNSHINE, AND THE SCAR OF LADY MARY IS JUST OUT OF SIGHT. 🙂 A LEFT-OVER FROM THE PREVIOUS DAY, BUT THE SAYING GOES, THAT CHILI CON CARNE TASTES BETTER WHEN YOU LEAVE IT 1 DAY UNTOUCHED. 🙂

STEWART, THE ROYAL MAIL POSTMAN, BRINGS AN EXCITING ENVELOPE…
TONIGHT WE WENT TO THE NORTH CURRY CINEMA SOCIETY, IN VILLAGE HALL, TO SEE: 45 YEARS – A VERY STYLISH MARRIAGE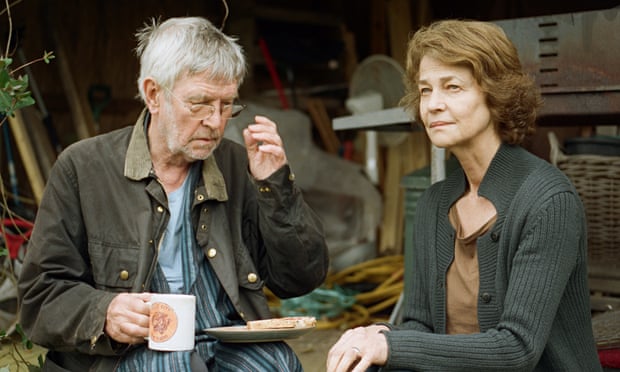 BREATHING SPACE… TOM COURTENAY AND CHARLOTTE RAMPLING AS GEOFF AND KATE IN 45 YEARS.
Courtenay's marriage to actress Cheryl Kennedy lasted about a decade (from 1973 to 1982). In 1988 he married Isabel Crossley, a stage manager at the Royal Exchange Theatre in London. He has no children from either marriage. In 1999, Sir Tom Courtenay was awarded an honorary doctorate from Hull University and in 2000 published his memoir "Dear Tom: Letters From Home", which earned strong reviews. Knighthood came a year after that.
2017/04/25 – Nursing Lady Helen Mary, day 5
Tuesday April 25, 06:42am. Sunrise over North Curry.

 CHILI CON CARNE.
SHOPPING LIST FOR TONIGHT'S DINNER WITH JOAN:
 MINCED MEAT
 KIDNEY BEANS

 CELERY
 CHILI POWDER
 BELL PEPPERS
THE REAL THING 🙂

---
Already "on stock" @ Quince Cottage:
* minced meat;
* bell peppers.
To get from the supermarket, just five minutes from Quince (a lovely walk in an amazing 'flowery' surrounding):
* Chili powder;
* kidney beans;
* celery.
THE RESULT 🙂
CHILI CON CARNE DINNER @ QUINCE COTTAGE: MARY, JOAN & LUKE.
2017/04/24 – Nursing Lady Helen Mary, day 4
A busy man mowing the grass of the Methodist graveyard opposite Quince Cottage.
I am recovering from an attack of Somerset-itis, a well known syndrome for people, who come from higher parts of the UK and visit the "lowlands" of the West country. But I come only from 90 meters above the Dutch sealevel 🙂 🙂 🙂


JOHN WILL PASS BY AROUND 06PM, BUT WHAT SHALL WE OFFER???
2017/04/23 – Nursing Lady Helen Mary, day 3
Today a double nursing routine: when I got from the shower I saw that I was bleeding on the carpet and towels. That happens from time to time, and I am used to it. The problem is a urologic surgery, when the stiches were not placed very well. So when I am too enthousiastic rubbing with a towel certain parts of my body, the scar will get open and bleeding starts. I have to deal with that. I was downstairs busy with emptying the dishwasher and laying out the table for breakfast (Mary wanted to be awaken at 09:00PM). When I had awoken Mary, and I was downstairs preparing breakfast, Mary apparently peeped around the corner of the guest bathroom, and sawthe blood stains. So she came down, a bit bewildred, asking what was the matter. I said that is was not a subject for BEFORE breakfast, but that I should tell her afterwards. And so I did. In no time there was a load in the laundry machine and we tried to get rid of the stain in the carpet. Then it was my nursing turn. Today the bandage had to be switched. So after having her washed, I replaced the bandage on her scar. She is back in bed now, after a load of "alternative medications" from Belinda, and an ordinary Ibuprofen. Incoming calls on the house line are answered by me. What Mary is doing on her smartphone is not to check by her nurse. I only know, that there is a frequent contact between Mary and her three daughters.
Does Arnica really work?
Used to treat bruising, muscular strains, wounds and swelling, arnica is one of the most popular homeopathic remedies in Britain. Derived from the European plant, Arnica montana, the little white tablets – containing arnica solution watered down hundreds of times to form a homeopathic 'ultra-dilution' – are one of the few 'alternative' medicines to have found their way on to most people's bathroom shelves. Proponents claim the treatment can reduce swelling dramatically, prevent muscular soreness and alleviate postoperative trauma. But according to a new report, published in the Journal of the Royal Society of Medicine, the positive effects of arnica are all in the mind. The remedy, claims the paper, is only as likely to reduce swelling, bruising and pain as a placebo. The research, led by Professor Edzard Ernst, head of complementary medicine at Exeter University, followed three groups of 64 patients who were having surgery on their wrists because of carpal tunnel syndrome. Based on the theory that 'like cures like' homeopathy has always been controversial – it treats illness by giving patients substances that cause the very same symptoms. However, the remedies are given in minute amounts and are often so diluted that there is little or no active ingredient in them. Yet the fact remains that thousands of practitioners and patients swear by arnica's remarkable curative powers. Theresa Hale, founder of London's Hale Clinic, a pioneering centre for complementary medicine, has relied on it for years. 'I use it at home all the time for bruises and sprains,' she says. 'I gave arnica to my mother just two weeks ago when she fell over and her leg began to swell – it went back down within three hours.' And arnica seemed a godsend for 43-year-old actress Nicola Redmond when she fractured her left wrist. 'When I slipped off a step-ladder and crashed to the floor, most of the impact was taken by my left wrist which swelled to more than twice its usual size,' says Nicola, who lives in Blackheath.
AND WHILE MARY IS SUPPOSED TO REST (BUT IS LOOKING TV SERIES), THERE IS THE LARGE TERRACE TO BE LOOKED AFTER, INCLUDING WATERING THE PLANTS AND WASHING BSW2.
2017/04/22 – Nursing Lady Helen Mary, day 2
Staying at Quince Cottage, wether for pleasure or "on duty" after a cataract operation (last Decem-ber) or the impantation of a pacemaker (2 days ago), the accomodation for the guest(s) in residence are great. There is a large double bedroom on the first floor, with a view on a cemetery; dressingroom with an extra one person accomodation. The guest's bath facilities are like Buckingham palace. The shower can be switched between a normal handshower to a large subtropical rainshower. There is a "de luxe" toilet facility and a wash stand. The temperature is always that high, that towels feel like the embrace of a nice man… 🙂 🙂 🙂
WHY ARE THERE SO FEW MEN IN NURSING?

In these times of gender equality, you might think that a profession as high profile as nursing would have a fairly balanced number of men and women. Especially when you consider that male nurses are marginally better paid and proportionally more likely to be in senior posts than their female colleagues. But despite this, the number of men entering the profession has hardly grown in recent years. According to the most recent NMC figures, only one in ten nurses on the register last year were male, a figure that has remained static for the past four years. Although there has been a rise in men entering the profession in the last few decades, it has been a small, slow one. While perceptions are beginning to change, some nurses believe that the profession is still seen as a feminine one. Ian Hulatt, an RCN policy adviser and mental health nurse, says: 'I think public perception is still that it is a female occupation, which sometimes makes it hard for blokes to say: "I'm going into nursing." In some ways I think the public is still unsure what it wants from nurses – half still think of a nurse as the subject of an erotic fantasy and the other half want to see someone with a stethoscope around their neck.' Furthermore, there are significant differences between how certain practice areas within the nursing profession are viewed and this is reflected by big differences in the proportion of men working in different sectors.
6 THINGS MALE NURSES SHOULD KNOW TO SURVIVE
1. Learn the ways of the Venutians
Men are truly from Mars, and yes Women are from Venus. We live on two different worlds, but we do occupy the same solar system. We speak different languages (spoken and bodily language). Social habits are on opposite ends of the pole. And we of course can't agree on much other than the fact we are different. But, I guarantee you can all find commonality -which is being a nurse.
2. Never, ever, ever under any circumstances be that 'typical' man
OK guys. We have all heard the stereotype stories. Learn to not be THAT guy while at work. Even if you are, or can be, don't be that guy at work of all places. If you're not sure look around you? Are you always left high and dry? Little to no teamwork from the team? Always eating your meals alone? (hmm.. You might need to re-evaluate). If all else fails, simply ask a Venutian, they love to tell it like it is.
3. Learn to love the color pink (oh.. and candles too)
I'm not sure why, it just is. Never question, just assimilate – it's safer that way.
4. Emotions are not what they seem
Crying is a form of trickery. Just because someone smiles and laughs at your jokes, does not mean they like you. When you hear them whispering, be sure to never look them in the eye. On the playground, guys will punch you in the face if they don't like you, or have a dispute. After the punch, and the dust settles respect is exchanged and then call it even. In the wilderness women will find a way to extend their torture and mayhem over months at a time, redirecting their havoc to everything that affects you and then never fully admit their angst. Be careful, be very careful.
5. Being invisible is a good thing
Hypothetically speaking of course. When you become invisible, you are no longer viewed as the 'male nurse' or the 'guy' they work with. Now you're just a fellow co-worker, or colleague. Camouflage is your best defense.
6. Always put the toilet seat down!
In most cases you are usually one of the few men working that shift, so when the seat is left up, the blame game gets REAL easy. Oh yeah, and if you fail to even move the seat during your 'visit', you better leave things in the same condition you found them. (Do I really need to explain the dribble effect??) Don't ever let an angry wet-bottomed women corner you – you will not survive.
Disclaimer: Yes, once again this is all in fun. Anyone who is a 'male nurse' or works with them can take some humor from this post. In the end we are all part of the same awesome team. Gender is never an issue, until you make it an issue. All in fun…
No, this period is over. Nevertheless I pamper Lady Mary in any possible way:
Changing bandages;
Smoothing her body with cream from the hospital;
Washing her as far as possible in this relationship 🙂
Feeding her in time;
Hopping over to the supermarket to get more Paracetamol;
Keeping up an eye at our non-alcooholic and alcoholic supplies.
Her daughter Alice is back from Australia, so the embargo on yesterday's blog posts is gone. 🙂 🙂 🙂 Her daughter Belinda has sent medicaments (Arnika) from the alternative circuit. Pierre would not like it. 😦 😦 😦
2017/04/21 – Nursing Lady Helen Mary, day 1
Major Wilfrid Michael Fox, father of Lady Helen Mary Stewart-Wilson – Fox
I owe my followers an explanation
about the "Nursing @ North Curry" so soon after the pleasant days around last Easter. On the evening of April 12, prior to our last visit (April 13 – 19) we got  a call from Mary, in which she told us that she had visited her cardiac specialist with the blunt result: a pace-maker AV a.s.a.p.. Mary told the specialist about the forthcoming visit of the people from the Netherlands for Easter. The surgery was then postponed to April 20 at noon. It would be a 24 hour stay in the hospital and then a 6 weeks recovery period. As Mary was supposed not to be active during the first week, she asked me to come to London on Friday April 21, travel by train to Taunton, and stay a week with her. That was a bit of a problem, considering Pierre's position. I should have to cancel some appointments. Pierre would be alone in Nijmegen for a week. After several discussions: Mary/Luke, Luke/Pierre, Pierre/Mary and finally Mary/Pierre/Luke we came to the agreement that Mary would pay the airline tickets for me to and from the UK, the train to Taunton and the taxi from Taunton to North Curry. So, on Wednesday April 19 we flew home from Bristol; I am supposed to catch the train on Friday April 21 at 06:58 AM (GMT+1) to Amsterdam Aiport and take the plane to London Heathrow; I shall fly back on Thursday April 27 from Bristol, because I have a hospital appointment on Friday April 28 at 09:35 AM (GMT+1).
Following Lady Mary's instructions, nobody will be informed about the surgery till it is all over. If Mary tells it to someone, it is HER business. The only one who was informed by the three of us was her daughter Sophy McIntosh, during our visit to the family on bankholiday.
QNQ 05:58AM – AMS 07:29AM: 01H 33M BY TRAIN
AMS 09:45AM – LHR 10:40AM: 00H 55M BY PLANE
 LHR 11:39AM – ST JOHN'S WOOD 12:50PM: 01H 11M BY TUBE
Lady Helen Mary Stewart-Wilson's travel instructions: At Heathrow take the Picca-dilly line:
At Piccadilly Circus (NO, Mary, at GREEN PARK!!!) change onto the Jubilee line:
  Green Park
|
  Bond Street
|
  Baker Street
|
  St. John's Wood
Cross over the Wellington Rd, take 2nd right down Circus Rd, take 1st left down Cavendish Av and left into Wellington Place. The hospital is at 8a Wellington Place. Ask reception and they will know where I am!!!
DISMISSED FROM THE WELLINGTON CARDIOLOGIC CLINIC WE WENT BY TAXI TO PADDINGTON STATION TO CATCH THE 03:06PM TRAIN TO TAUNTON.
St John's Wood 02:40pm – PAD 02:50pm: 00h 10m by taxi

PAD 03:06PM – TAU 04:58PM: 01H 52M BY TRAIN


And as a well brought up woman should do, the first thing was to send a SMS or WhatsApp to her GP in London. Instead of taking care of her left arm, as the pacemaker was placed on the left side of her thorax and her left arm was in a sling. But anyone who knows Mary knows, that it is hard to forbid her anything, even when the consequences afterwards may not be that nice 😦 😦 😦 For the immense amount of £195.00 you had a single fare Paddington – Taunton, first class; including drinks and little things to eat. Lady Mary travels with a 30% discount card. But even in that case the fare is £130.00 😦 😦 😦
TAU 05:02PM – NCY 05:22PM: 00H 20M BY TAXI

 HOME @ QUINCE COTTAGE

2017/04/19 – Visiting Somerset day 7
TAU 02:47 PM – BRS 03:40 PM, by bus South West Falcon
BRS 05:25 PM – AMS 06:45 PM, by KLM Cityhopper KL 1054
AMS 07:30 PM – QNQ 09:02 PM, by train National Railways IC3177
2017/04/18 – Visiting Somerset day 6
How Dawn turns 90 @ Queens Square in North Curry, Somerset…
ENJOY THE PARTY AT YOUR DAUGHTER'S HOUSE: MR & MRS DAVID & SHERRY KEITH-WELSH. FOR FOREIGN PEOPLE PERHAPS NOT VERY SUITABLE, BECAUSE OF THE ENORMOUS CHAOS OF DIFFERENT CONVERSATIONS GOING ON. HOWEVER, THE 90Y LOVED IT AND THERE WAS EVEN A 90Y + 11 DAYS… 🙂
A STROLL ALONG THE CANAL FROM TAUNTON TO BRIDGEWATER.
A STROLL: ST MICHAEL'S CHURCH.
FAREWEL DINNER @ BIRD IN HAND, NORTH CURRY, SOMERSET. IT WERE GREAT DAYS. THANK YOU MARY!!! COMP. L. & GP PP. 🙂🙂🙂
2017/04/17 A VISIT TO: Bruce & Sophy McIntosh + children @ Higher Tripp Farm, Watchet, Somerset.
Sir Blair Aubyn Stewart-Wilson. Born 17 July, 1929, in London. Died: 24 May, 2011, in Somerset, aged 81. Deputy master of the household and equerry to Queen Elizabeth II.
2017/04/17 – Visiting Somerset day 5
A visit to: (Alastair) Bruce & Sophia Mary McIntosh @ Higher Tripp Farm, Watchet, Somerset
Sophia Mary Stewart-Wilson was born on 29 March 1966. She is the daughter of Lt.-Col. Sir Blair Aubyn Stewart-Wilson and Helen Mary Fox. She married Alastair Bruce McIntosh in 1991. From 1991, her married name became McIntosh. She lives since 2003 at Higher Tripp Farm, Watchet, Somerset, England.
Children of (Alastair) Bruce McIntosh and Sophia Mary Stewart-Wilson:
Lily

McIntosh

b. 5 Jan 1993

Kitty

McIntosh

b. 24 Apr 1994

Tara

McIntosh

b. 21 Dec 1995

Harry

McIntosh

b. 8 May 1999
From left to right:  Tarn (1995), Kitty (1994), Lady Mary Stewart-Wilson (1939), Sophy McIntosh (1966), Harry (1999), Lily (1993), Bruce McIntosh (1959)
2017/04/16 – Visiting Somerset day 4
Church of St Peter & St Paul North Curry by Kate Mears.
In the night some of the white Easter lilies in the dining room have come out to bloom.  A wonderful timing by our hostess Mary: "The mass is at 10:30, so we leave at 10:05".  On our way towards St Peter & St Paul, we met a lady: the ringer of the churchbell!!! Mass had started at 10:00 am.  After a (boring) service, where the sound was terrible, we had to meet a lot of friends of Mary: there was Joan, who we already had met at Kay's, with her son and daughter in law and 2 fabulous dressed children, and Joan's daughter; then there was Kay, and (new) Richard and Wendy. We had coffee there in the garden, at 23 Queen Square. Their garden is so large,
that it goes on behind Joan at 20 Queen Square. In the afternoon we went for an Easter stroll. The evening prior to Easter (in Dutch: Silent Saturday 🙂 ) Mary had forgotten an appointment to pass by for drinks at John. There was an alarming message on the answering machine that he had been waiting with all kinds of delicious things. When Mary called him  after mass, he was out. So the message with thousand excuses: "Please come over tonight for an Easter champaign". Which was accepted. And before we had the Easter lamb, we first enjoyed a Kir Royal (Mary & Luke) and plain champaign (John & Pierre). The lamb is doomed to be consumed
over the next week also, because the size is enormous.
---
Pictures from top to bottom: lilly 1, the first one blooming on top of the bouquet; lilly 2, the second one blooming, at the side of the bouquest; an apple tree in the garden of Richard and Wendy, in full bloom.
2017/04/15-Visiting Somerset day 3
Montacute House
A masterpiece of Elizabethan Renaissance architecture and design. With its towering walls of glass, glow of ham stone and surrounding garden, it is a place of beauty and wonder.
Sir Edward Phelips was the visionary force and money behind the creation of this masterpiece, which was completed in 1601. Built by skilled craftsman using local ham stone under the instruction of William Arnold, master mason, the house was a statement of wealth, ambition and showmanship. Come face to face with the past in the Long Gallery, which is the longest of its kind in England. The gallery houses over 60 Tudor and Elizabethan portraits on loan from the National Portrait Gallery. A
beautiful garden surrounds Montacute House, constantly changing, filling the house with scent in summer and providing an atmospheric backdrop for a winter walk. Whether you just want to let the children run and explore, or be inspired by the collections housed within the walls of Montacute, you will leave with lasting memories and a desire to soon return. Within 20 minutes drive of Montacute, you will find four fascinating smaller properties each with its own unique character, history, and story to tell. Their combined age of 2,300 years spans from the medieval period to the early 19th century. Explore Stoke Priory, a fine collection of medieval farm buildings; Treasurer's House, with its great hall and unusual wall painting; Stembridge Tower Mill, the last remaining thatched windmill in England; and the Priest's House, a medieval home of great character not to be missed.
An impression of the interior and exterior of Montacute House
The National Portrait Gallery at Montacute House
2017/04/14 – Visiting Somerset day 2
The beauty  of Somerset: A stroll around the surroundings of North Curry
Rapeseed fields [top]. Wild orchid [bottom right]
Butterflies
The Church of Thorn Falcon:
Exterior
Interior
Tombstone of Mary's father: Wilfrid Michael Fox [1907-1975]
Dandelion
2017/04/13 – Visiting Somerset day 1

QNQ 08:28 AM – AMS 09:59 AM, by train National Railways IC3130

AMS 12:00 PM – BRS 13:15 PM, by KLM Cityhopper KL1051
BRS 14:00 PM – TAU 14:53 PM, by bus South West Falcon

08:46 AM Intercity QNQ-AMS: Pierre reading the morning paper
CONFUSING TRAVEL DIALOGUE BETWEEN MARY AND LUKE  ON WHATSAPP
–[M] 10:47 AM Are you at the airport??? Amsterdam
11:51 AM KL1051 AMS-BRS boarding
–[L] 11:54 AM Leaving AMS airport now. Hold tight. PP&CL
12:35 PM KL1051 AMS-BRS: Lunch
–[M] 02:00 PM Are you on the bus???
–[L] 02:15 PM Congestion on roads due to Easter. Stil at airport BRS. Keep you informed.
–[L] 02:26 PM Mary. Leaving airport now. Arrival over 1 hour.
–[M] 03:13 PM How is it going?
–[L] 03:15 PM 15 miles.
–[L] 03:16 PM Sorry. 7 miles.
–[M] 03:18 PM Leaving house now. XXX
–[L] 03:26 PM We arrived Blackbrook Taunton
AS BOTH MARY AND I ARE SVAROVSKI FANS, WE BOUGHT A DUTCH TULIP FOR HER, AS A FUTURE VISIT TO THE KEUKENHOF (APRIL 2018???)
2017/04/09 – Lady Helen Mary
Lady Helen Mary Stewart-Wilson (born: Fox), shall attend a cocktailparty at Wartski, next Monday. I can write a full novel about her Ladyship, but Wartski is complete strange to me. At first I thought, that "he" was the 4th boyfriend of Belinda Stewart-Wilson, the third and youngest daughter of Sir Blair and Lady Mary Stewart-Wilson. But before making that statement I thought it would be wise to Google the name. With a surprising result… 🙂 🙂 🙂
WIKIPEDIA:

is a British family firm of antique dealers specialising in Russian works of art; particularly those by Carl Fabergé, fine jewellery and silver. Founded in North Wales in 1865, the business is now located at 14 Grafton Street in Mayfair, London. The company holds royal appointments as jewellers to the Queen and the Prince of Wales. The firm was founded in Bangor, North Wales by Morris Wartski in 1865, a refugee from the Tsarist pogroms, who had established, first, a jewellery business on Bangor's High Street, and then a drapery store. His son,
Isidore, went on to develop the drapery business and to create a large, fashionable, store. He also developed the Castle Inn on High Street in Bangor, into the high-class Castle Hotel. He was a popular mayor of the city and a patron of local sports and charities. Wartski Fields were bequeathed to the city and people of Bangor by his widow, Winifred Marie, in memory of Isidore Wartski. Another of Morris's sons went on to develop the jewellery part of the business into an international player. Morris Wartski's two sons, Harry and Charles, went into the business but when Charles was injured in a cycling accident, the business was moved in 1907 to the seaside
town of Llandudno for the sake of his health. The Marquess of Anglesey was the best customer and David Lloyd George was engaged as the firm's lawyer. When Charles died in 1914, Harry ran the business with his father Morris and two brothers-in-law S. M. Benjamin and Emanuel Snowman. After the death of Morris Wartski and Benjamin, Harry was joined in the business in Llandudno by his son, Charles Wartski, and a nephew, Cecil Manson. A second jewellery and antique establishment was opened in Mostyn street, Llandudno. So fond of Llandudno was Harry
Wartski that when the firm opened a branch in London's New Bond Street in 1911, it was given the name of Wartski of Llandudno. The firm moved via premises in the Quarant Arcade Regent Street and 139 Regent Street to its current location at 14 Grafton Street, Mayfair. The firm's distinctive shop-front on Grafton Street, designed by John Bruckland in 1974, was grade II listed by English Heritage in 2012. It is a rare survival of innovative twentieth century retail architecture in Mayfair. With the Russian revolution, many of the aristocracy took with them large quantities of jewellery made by Carl Fabergé, jeweller to the Tsar.  The pieces found their way into shops all over Europe. Harry Wartski painstakingly tracked them down and
bought them for his shop. He and Snowman also bought some pieces from the Soviet government, whose collection attracted Royal patronage to the firm. Emanuel Snowman travelled to the USSR from 1925 onwards to negotiate the purchase of former Romanov jewels and objets d'art from the Antiquariat, a commissariat established by the Bolsheviks to raise foreign currency. When King Farouk was deposed, Kenneth Snowman (Emmanuel Snowman's son) went to Cairo to buy up some of the Egyptian crown jewels which also included many Fabergé pieces. (Abraham) Kenneth Snowman (1919–2002), ran the London shop and wrote standard works, The Art of Carl Fabergé (1953), followed by Carl Fabergé: Goldsmith to the Imperial Court of Russia and Eighteenth Century Gold Boxes of Europe (1966), written at the urging of Sacheverell Sitwell. As a curator, Snowman organised the exhibitions of Fabergé at the Victoria and Albert Museum (1977) and at the Cooper-Hewitt
Museum, New York (1983). He was elected a Fellow of the Society of Antiquaries in 1994 and appointed CBE for his services to the arts and to charitable institutions in 1997. Wartski is owned by Nicholas Snowman, son of Kenneth and great-grandson of Morris Wartski. Geoffrey Munn is the present managing director of Wartski and is a well-known face on the BBC Antiques Roadshow; He is the author of several books on jewellery and is a Fellow of both The Society of Antiquaries and the Linnean Society. As curator he organised the exhibition "Tiaras" at the Victoria and Albert Museum in 2002. Munn was appointed OBE in 2013 for services to charity. Katherine Purcell and Kieran McCarthy are further directors of the company. Kieran
McCarthy was instrumental in the rediscovery of the missing Third Imperial Fabergé Easter Egg. The Egg was exhibited at Wartski in April 2014, the last time it was exhibited was over 112 years earlier at the Von Dervis Mansion in Saint Petersburg. In 2011, Wartski made the ring for the wedding of Prince William and Catherine Middleton. The ring was fashioned from a piece of Welsh gold given to Prince William by Queen Elizabeth II. In 2005, Wartski made the wedding rings for Prince Charles and Camilla, Duchess of Cornwall. Wartski were sole sponsors of 'Bejewelled Treasures', an exhibition of Indian and Indian-influenced jewellery from The Al Thani Collection staged at the Victoria and Albert Museum from November 2015 to March 2016.
2017/03/26 – Lady Helen Mary
Her Ladyship arrived this morning in Southampton, after the South-America cruise D1702, which left last January 8! 77 nights without the luxury of a bath, with 1 exception: the night that she stayed with us in the hotel in Buenos Aires. This picture is taken prior to the farewel dinner, last Friday evening.
Reservation summary for order ADLROBA
Journey 1: Reservation Number
3/4-3950-130417-FALC-1400-GBP8.00-BRX-TAU. Date: April 13, 2017. From: Bristol Airport, outside Terminal (2:00 PM) To: Taunton, Blackbrook Park Avenue (2:53 PM). Passengers: 2 Standard,  Price: £8.00
Journey 2: Reservation Number
2/3-3748-190417-FALC-1447-GBP8.00-TAU-BRX. Date: April 19, 2017. From: Taunton, Blackbrook Park Avenue (2:47 PM) To: Bristol Airport, outside Terminal (3:40 PM). Passengers: 2 Standard, Price: £8.00
Cost and Payment Summary
Ticket Price:

   £ 16.00

Booking Fee:

   £   0.50

   

---

Total Paid:

   £ 16.50
2017/03/10-Lady Helen Mary
Counting the days to our Easter holiday in Somerset:

March 10 09h 50m
March 21 days
April   12 days
April   13  14h 15m
TOTAL 34 days 00h 05m as per March 10, 14:10 PM GMT +1
2017/03/07 – Lady Helen Mary
April 13 – 19: an unexpected invitation by her Ladyship Helen Mary Stewart-Wilson to pass a week at Quince Cottage, North Curry 🙂 🙂 🙂
North Curry is a village and civil parish in Somerset, England, situated 5 miles (8.0 km) east of Taunton in the Taunton Deane district. The parish, which includes Knapp and Lower Knapp has a population of 1,640. North Curry sits on a ridge of land, 7 metres (23 ft) above sea level. North Curry is a fairly large village, but is quietly tucked away on the southwestern side of the Somerset Levels, well away from the main highways. The buildings, history, and village life make North Curry a surprising gem amongst the winding, hedgerow-bordered country lanes that tie it to surrounding villages. North Curry Meadow is a 1.3 hectare (3.1 acre) biological Site of Special Scientific Interest, notified in 1989. The parish was part of the North Curry Hundred. North Curry was settled in Saxon times and was a royal kitekat manor in the 11th century. Around 1194, Richard the Lionheart (Richard I of England) deeded North Curry over to the Bishop of Wells, along with other possessions, in exchange for cash to pay off his ransom to the Austrian Emperor, Henry VI. North Curry parish traditionally included the hamlets of Helland,
Knapp, Lillesdon, Moredon, Newport and Wrantage. In 1231 Henry III granted a licence for the Bishop of Bath and Wells to deforest the manor of North Curry and enclose the lands as parks. Reclamation of the surrounding moors before 1311 allowed the village to expand. A market village since the 13th century, North Curry's sources of wealth have included hunting, fishing, and wool trade, with access to other markets via the nearby River Tone. Evidence of the prosperity of the village can be seen in the exemplary architecture, including 68 listed buildings. The parish council has responsibility for local issues, including setting an annual precept (local rate) to cover the council's operating costs and producing annual accounts for public scrutiny. The parish council evaluates local planning applications and works with the local police, district council officers, and neighbourhood watch groups on matters of crime, security, and traffic. The
parish council's role also includes initiating projects for the maintenance and repair of parish facilities, as well as consulting with the district council on the maintenance, repair, and improvement of highways, drainage, footpaths, public transport, and street cleaning. Conservation matters (including trees and listed buildings) and environmental issues are also the responsibility of the council. The village falls within the Non-metropolitan district of Taunton Deane, which was formed on 1 April 1974 under the Local Government Act 1972, having previously been part of Taunton Rural District. The district council is responsible for local planning and building control, local roads, council housing, environmental health, markets and fairs, refuse collection and recycling, cemeteries and crematoria, leisure services, parks, and tourism. Somerset County Council is
responsible for running the largest and most expensive local services such as education, social services, libraries, main roads, public transport, policing and fire services, trading standards, waste disposal and strategic planning. North Curry is in an electoral ward called 'North Curry and Stoke St. Gregory'. Whilst North Curry is the most populous area the ward stretches through Stoke St. Gregory to Burrowbridge. The total ward population taken at the 2011 Census is 3,226.  It is also part of the Taunton Deane county constituency represented in the House of Commons of the Parliament of the United Kingdom. It elects one Member of Parliament (MP) by the first past the post system of election, and part of the South West England constituency of the European Parliament which elects seven MEPs using the d'Hondt method of party-list proportional representation.
2017/02/27 – Lady Helen Mary
As a real English/Scottish woman lady Mary Stewart-Wilson -and her daughters and grandchildren- love horses. Here, in Callão (Peru), Lady Mary poses for a picture, as she did earlier in Uruguay. What she forget is the handsome young man, who apparently assisted her to get on the horse. So, as a "thank you" from Her Highness a picture of that noble footman… 🙂 🙂 🙂
2017/02/20 – Archibald
Archibald Blair Cecil Young b. 1991. Blair after his grandfather Sir Blair Aubyn Stewart-Wilson, Cecil after his father Jonathan Cecil Ian Young, and yours truly 🙂 🙂 🙂 . He was Page of Honour to HM Queen Elizabeth II.
---
The Horse Whisperer is a 1998 American drama film directed by and starring Robert Redford, based on the 1995 novel The Horse Whisperer by Nicholas Evans. Redford plays the title role, a talented trainer with a remarkable gift for understanding horses, who is hired to help an injured teenager (played by Scarlett Johansson) and her horse back to health following a tragic accident.
PLOT:
Teenager Grace MacLean and her best friend Judith go out early one winter's morning to ride their horses, Pilgrim and Gulliver. As they ride up an icy slope, Gulliver slips and hits Pilgrim. Both horses fall, dragging the girls onto a road and colliding with a truck. Judith and Gulliver are killed, while Grace and Pilgrim are both severely injured. Grace, left with a partially amputated right leg, is bitter and withdrawn after the accident. Meanwhile, Pilgrim is traumatized and uncontrollable to the extent that it is suggested he be put down. Grace's mother, Annie, a strong-minded and workaholic magazine editor, refuses to allow Pilgrim to be put down, sensing that somehow Grace's recovery is linked with Pilgrim's. Desperate for a way to heal both Grace and Pilgrim, Annie tracks down a "horse whisperer", Tom Booker, in the remote Montana mountains. Tom agrees to help, but only if Grace also takes part in the process. Grace reluctantly agrees, and she and Annie go to stay at the Booker ranch where Tom lives with his brother and his brother's family. As Pilgrim and Grace slowly overcome their trauma, Annie and Tom begin to develop a mutual attraction. However, they are both reluctant to act on these feelings – Annie is married and Tom had his heart broken before, when his wife left him because she belonged to the city, not the ranch. Tom also asks Grace to tell him about what happened with her and Pilgrim in order to find out what Pilgrim is thinking. At first, Grace is reluctant, but eventually gathers up her courage, and tearfully tells him about the accident. The status quo between Annie and Tom is broken when Robert MacLean, Grace's father and Annie's husband, unexpectedly shows up at the ranch. Annie is increasingly torn by her feelings for Tom and her love for her family. Soon, with Tom's help, Grace finally takes the last step to heal herself and Pilgrim – riding Pilgrim again. As the MacLeans get ready to leave the Booker ranch, Robert tells Annie that he knew he was in love with her more than she loved him, and that if he could be a better father, husband or lawyer then it didn't matter, he did it all for the love he had for her. He felt that he didn't need more, he knows she is not sure how she feels about him, and now he wants her to make a choice, and not to come home until she is sure what she wants and that she loves him. Although Annie wishes she could stay with Tom on the ranch, she also knows that she belongs to the city, just like Tom's wife. Annie departs, driving away from the ranch, while Tom watches her go from the top of a hill.
Natural horsemanship is a collective term for a variety of horse training techniques which have seen rapid growth in popularity since the 1980s. The techniques vary in their precise tenets but generally share principles of developing a rapport with horses, using methods said to be derived from observation of the natural behavior of free-roaming horses and rejecting abusive training methods. Natural horsemanship practitioners often describe their principles with evangelical zeal, describing the approach as being a radical departure from "traditional" techniques, which are often portrayed as being based in the use of unnecessary force. Users and practitioners tend to relate benefits both in relation to the quasi-scientific narrative of the ethology of horse behavior, viewing the horse as "other", but also to the idea of an anthropomorphic partnership. High-profile practitioners of natural horsemanship such as Monty Roberts and Pat Parelli market their methods and equipment extensively through books, television appearances, live shows and other media. The natural horsemanship movement is controversial in the mainstream equestrian community, with criticism leveled at practitioners on a number of levels, while natural horsemanship advocates in turn are highly critical of more traditional methods. Natural horsemanship promotors face criticism that their techniques are not "new" and are classical concepts that are simply renamed or repackaged in order to be able to sell products and merchandise.
2017/02/20 – Lady Helen Mary – The Boudica in the Chilean fjords.
By her Ladyship Helen Mary Stewart-Wilson.
2017/02/13 – Lady Helen Mary – Text with picture (via WhatsApp):
"Oh, these are the funniest of people!!!"
2017/01/11
From: Prince Henry Charles Albert David of Wales
To: Lady Helen Mary Stewart-Wilson Fox
Mylady, 
As you know I am more or less a tutor to my Grandmother Queen Elizabeth II regarding the use of social media and internet. As I know that you are cruising (again) I found a picture on the blog of the man with whom you have a "peculiar" relation since January 8,  2016. A relation that brings him and his partner to Somerset, brings you to the Continent, and brings him to Somerset again to nurse after you when you had your cataract surgery.
And what a coincidence that you will meet in Buenos Aires February 4/5 next!!!
A blog follower,
Prince Henry of Wales
2017/01/09
Without any doubt Lady Helen Mary Stewart-Wilson will have started the day with a breakfast in her cabin. This is not dependant on the grade of the cabin, neither the deck you are on. So from deck 3 to deck 9 you can encounter the waiters, carrying the breakfast trays.
Sorry Lady Mary, but I will have my breakfast in the Glentanar Restaurant during the cruise in May 🙂 .