2018/01/14 – The ties that bind
A video of 17 minutes about the enormous East-West rail link in Canada. With spectacular views. Contributed by Brian Holden.
2017/12/31 – Quotation from an email:
"This morning it is -29 C with a windchill factor of – 40 C in Thunder Bay. Even the local wildlife is affected. I had a black squirrel at the kitchen doors waiting for a handout of nuts to keep warm."
2017/11/29 – Coming out
2017/09/07 – Hudson's Bay steps outside Canada with its flagship brand in the Netherlands
Hudson's Bay Co. chief executive Jerry Storch says bringing the iconic department store brand to the Netherlands wasn't his original plan, but feedback from local shoppers suggested the country could use more Canadiana — and a few of those Bay blankets. When the retailer opens its doors on Tuesday in Amsterdam it marks the first time in its history that Hudson's Bay stepped outside Canada's borders with its flagship name. Nine more locations will canvass the region before the end of the month, with five more set to open next year. It's an aggressive push into new territory, Storch acknowledges, but the opportunity to pick up attractive local space from bankrupt Dutch chain V&D was too good to ignore. "There was a big gap in the Dutch market between a very high-end luxury player and the discount chains," he said. "We looked at all the markets in the country." Putting up signs in the Netherlands for a 347-year old Canadian business that started as a fur trading company wasn't quite as obvious at first, he said. Originally executives felt it made sense to simply migrate Inno, a Belgium chain they acquired two years ago, across the border assuming that consumers shared some familiarity with the brand. However, they quickly learned that not everyone in the Netherlands favoured the idea of a neighbouring country setting up shop on its home turf. "The Dutch people kept telling us, 'We don't want the Inno brand,"' Storch said. "We couldn't believe it. Even the guys at the hotel restaurant would tell us, 'No, bring Hudson's Bay here."' 
So HBC, which owns a number of other banners including Saks and Lord & Taylor, chose to make Hudson's Bay its top priority in the region. Another two discount stores under the Saks Off 5th name will open before the end of the year. Storch is confident that a dose of Canadian spirit to the Netherlands will be greeted with open arms. The two countries have a number of historic connections, most notably near the end of the Second World War as the Canadian Armed Forces liberated the Dutch people. Ottawa also sheltered the country's Princess Juliana during the Nazi occupation, which later inspired the Netherlands to gift thousands of tulips to the nation's capital. The tradition continues each year with the Canadian Tulip Festival. Storch said department stores that were cherry picked from the 60 closed V&D locations will open fully renovated and stocked with items familiar to Canadians, like the famous wool blanket. More than 100 Dutch brands and a variety of national and global labels will also fill the shelves. But Storch said the retailer won't spend much time reflecting on the history of the Hudson's Bay brand in Canada. "We're focused on how exciting and forward looking the brand is," he said.
2017/07/06 – Justin Trudeau awarded honorary degree in Edinburgh ahead of Queen meeting
Canadian Prime Minister Justin Trudeau thanked Scotland for being a "strong partner to us" as he received an honorary degree in Edinburgh. Mr Trudeau was awarded the degree of Doctor honoris causa in recognition of his commitment to equality and diversity. The politician attended the ceremony at the University of Edinburgh on Wednesday ahead of a meeting with the Queen. He is visiting Scotland on his way to the G20 summit in Hamburg, Germany, on July 7 and 8. Mr Trudeau is the second Canadian Prime Minister to receive an honorary degree from the university after Sir Wilfrid Laurier in 1902, who he described as his "second favourite Canadian Prime Minister". Accepting the honour, he said: "From the people of Canada to the people of Scotland, thank you for being a strong partner to us in this new global era of so many challenges." He gave part of his speech in French and spoke of the links between the two countries. He said: "Fifteen per cent of Canadians have Scottish roots, so Canadians, including me, have a strong link and affinity with
Scots." He described the relationship between the two countries as "a relationship based on a shared past and culture, all the more so as we share a certain number of priorities and values". Mr Trudeau told graduates from the school of social and political science that things that are worth it are never easy as he urged them to be open to new challenges. He said: "If it excites you a lot and scares you a little, then you should probably do it. Be bold, be brave, be open to the incredible opportunities in front of you. "Class of 2017, we need you, the world needs you, so be the best version of yourselves and go make us all proud. Congratulations." On Tuesday, Mr Trudeau visited Ireland, accompanied by his wife Sophie Gregoire Trudeau and their young son Hadrien, where he met Irish Taoiseach Leo Varadkar for the first time. His office said his visit to Ireland and the UK will "serve to recognise the strong family ties, history and common purpose our countries share". He will have a private meeting with the Queen at the Palace of Holyroodhouse on Wednesday to "honour her importance to Canada's history and to thank her for her continued dedication to Canada", his office said. The leader of the Liberal Party of Canada, who was elected prime minister in 2015, said he is looking forward to his meeting with the monarch. They met in London shortly after his election, but they also met when Mr Trudeau was a young boy and his father Pierre was Canada's PM.
2017/07/05 – Via: Brian Holden
This documentary was recently filmed and aired on Canadian television. The host in the film is a person I know and met in person. He helped to launch my career as a visual artist back in 1985. I had submitted a very detailed graphite drawing for a juried collection that would represent 30 artists from Northern Ontario to watch out for in the future. Christopher Hume was not only a critic on architecture and urban design but he was also an art critic. He along with 2 other notable Canadian artists traveled to Thunder Bay and spent 3 days viewing hundreds of submitted art works.
My submitted work earned me a third place honourable mention and I received an award. It along with the other selected artworks went on tour and received exhibition in several noted galleries across Canada. The documentary looks at urban issues with regards to moving large city streets in Toronto away from automobiles and towards other forms of  public transportation including the bicycle, streetcar and subway and light rail.
2017/06/12 – Kathleen Wynne is all aboard $21B high-speed-rail Toronto-Windsor project
The provincial government has committed $15 million for a "comprehensive environ-mental assessment" for high-speed rail between Toronto and Windsor. High-speed rail is finally picking up steam in Ontario. After years of talk, Queen's Park is spending $15 million on a "comprehensive environmental assessment" for a rail line on new and existing track to handle 250 km/h trains running between Toronto and Windsor. The estimated $21-billion project would slash the travel time from four hours to two. "This is an idea that has been around a very long time. This has been talked about for decades. The best time to have built high speed rail was 40 years ago. The second best time is today," Premier Kathleen Wynne said Friday in London, Ont. "We need to get moving on this. We've got to do it this time, folks," said Wynne, adding people want "action," not more "excuses" by politicians for not building fast trains. The premier announced a new governing body to oversee the design and implementation of a line with planned stops at Union Station, Pearson International Airport, Kitchener-Waterloo, Guelph London, Chatham and Windsor. A first phase between Toronto and London could be up and run-ning within eight years and the London to Windsor stage could be ready for 2031. At $60 million per kilometre, the 350-km line would be a relative bargain compared to the plan-ned one-stop 6.2-km Scarborough subway extension that has ballooned to $3.4 billion. "Building high speed rail along the Toronto-Windsor corridor isn't just a gamechanger for southwestern Ontario; it's going to deliver benefits all along the line," Wynne told reporters. "The Toronto-Windsor corridor is home to over seven million people and 60% of Ontario's economy. At its centre is London. We're outgrowing our current transportation network," said the premier, noting young people are especially keen on low-carbon transportation alternatives. Wynne said 10 million passengers a year could be using the line by 2041. It may usher in radical changes to urban planning in southern Ontario because the fastest VIA trains have a maximum speed of 160 km/h, which limits realistic daily commuting distances. "Whether it means accepting a job that previously seemed too far away, visiting family more often or having ready access to the innovators who can take your business growth to the next level — high-speed rail will make a real difference in people's lives and drive economic growth and jobs."
Toronto Mayor John Tory said he would be "very happy" if Toronto could be better connected with Waterloo's booming high-tech sector. "We've seen probably 10 provincial studies over the years, under all parties going back decades, and it looks like this one (is) maybe something that's a little more on the front burner," the mayor said during a tour of flooding on Ward's Island. Transportation Minister Steven Del Duca noted an extensive provincial report released Friday concluded there is a business case for high-speed rail along the Toronto-Windsor corridor. "This is a precedent-setting project. We want to make sure fundamentally that we get this right," said Del Duca, predicting commuters could travel between London and Union Station in 73 minutes, a trip that can take three hours now. The report, prepared by former federal transport minister David Collenette, Ontario's special advisor on high-speed rail, suggested the private sector could help fi-nance and build the massive project. "There have been thorough market soundings with the private sector, organized by Infrastructure Ontario," wrote Collenette, referring to the government agency that oversees the financing and construction of hospitals, court houses, and the Eglinton Crosstown LRT. "All of this work has led me to the conclusion that a business case exists for HSR (high speed rail) in the corridor, which would connect Toronto, Pearson Airport, Guelph, Kitchener-Waterloo, London, Chatham and Windsor," he continued. "I have also concluded that there are opportunities to engage the private sector in financing and delivering the project." Funding could come via the new federal Canada Infrastructure Bank as well as major private investors such as pension funds. Collenette pointed out the line could effectively pay for itself in improving efficiencies for Ontarians over the next few generations. "Overall, HSR will yield over $20 billion in economic benefits over 60 years from passenger travel time savings, auto-mobile operating cost savings, GHG (greenhouse gas) reduction benefits, benefits from reduced congestion on roads and other, wider economic benefits," he wrote. The scheme would also help the Liberals politically. With an election set for June 7, 2018, the gover-ning party is desperate to hold its one southwestern Ontario seat, London North Centre, which is represented by Deputy Premier Deb Matthews. Matthews, who Wynne praised for championing the project at cabinet, said the announcement is "good news" for London's economy. High speed rail would also be popular in Kitchener and could be helpful to MPP Daiene Vernile (Kitchener Centre) and Natural Resources Minister Kathryn McGarry (Cambridge). Premiers have long promised high speed rail, which is common-place in France, Spain, Germany, Italy, Japan, and China. Even the U.S. now has the Acela Express that can exceed 200 km/h. In 2008, former premiers Dalton McGuinty of Ontario and Jean Charest of Quebec commissioned a joint feasibility study of a line from Quebec City to Windsor. Progressive Conservative MPP Michael Harris (Kitchener-Conestoga) said voters should be wary. "Southwestern Ontario has been waiting on high-speed rail for years. Now, a year out from the election, the Wynne Liberals have shown up in London to re-announce another transit project they will never deliver on," said Harris.
2017/05/17
2017/04/12 – Via: Brian Holden
2017/04/12 – Via: Brian Holden.
On the southeast corner of Yonge and Gerrard, Cresford Developments unveiled plans for the tallest building in Canada last month (second only to the CN Tower) with the 98-storey YSL Residences rising to a height of 343.9 metres (1,128 feet). The proposal replaces a previous two-tower development on the site from KingSett Capital that was revealed back in 2015. Designed by New York-based Kohn Pederson Fox Associates in partnership with the tower would house retail in two below-grade levels and the first three floors of the podium, while office uses would be incorporated in the remainder of the podium up to the eighth floor. In the tower portion above, 957 condo units would be housed in a variety of sizes, with outdoor terraces on the podium roof and on the 42nd floor. At the base, the building would retain the facades of two heritage structures at the north and south ends of the site, while replacing the existing low-rise buildings in between.
2017/04/10 – Canadian province gambles future on marijuana's 'extreme growth potential'
New Brunswick invests in cannabis industry, which could be worth billions once legalised, with hopes to revive its declining economy and aging population.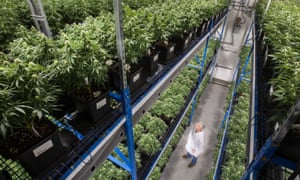 The thick scent of marijuana hangs heavy in the small room where rows of green plants are neatly arranged on shelves. For the medical marijuana company Organi-Gram, this is simply the latest round of production. But for New Brunswick, the small east coast Canadian province where this facility is based, the plants are part of a bigger gamble – one that aims to transform Canada's looming plans to fully legalise marijuana by July 2018 into an economic boon capable of solving the problems of chronic unemployment and a rapidly aging population. "We see here an industry that we think has extreme growth potential," Brian Gallant, the Liberal premier of New Brunswick, told the Guardian. His province has embraced the country's nascent marijuana industry like no other, betting heavily on its potential to shake up an economy long dominated by fishing and forestry. "We're very optimistic that we'll see significant investments and significant jobs created in the province because of it."  Some 100,000 Canadians currently use medical marijuana – and the number is growing by 10% each month, according to the Canadian National Medical Marijuana Association. This growth, along with promises from the federal Liberal government, led by Justin Trudeau, to make Canada the first G7 country to fully legalise marijuana, have led analysts to estimate Canada's cannabis industry could eventually be worth somewhere between C$5bn and C$7bn annually. The industry's potential growth spurt comes just as New Brunswick stares down a fast-approaching perfect storm of an aging demographic and economic decline. "We're desperate for growth," said Moncton-based economist Richard Saillant. In some ways New Brunswick has more in common with countries, such as Greece or Portugal, than with other regions of Canada, said Saillant. "We share the same characteristics as those countries to the extent that they're slow-growing peripheral economies that are fast aging and that are facing major financial stress." Home to some 750,000 people, the province is the only one in Canada with a shrinking population, as deaths outnumber births and younger residents head west for jobs. In their wake they leave an unemployment rate that hovers around 10% – one of the highest in Canada. One in five residents in New Brunswick is currently aged 65 years or over, said Saillant, compared to about one in eight in western Canada. Within two decades, the number is expected to balloon to one in three, posing a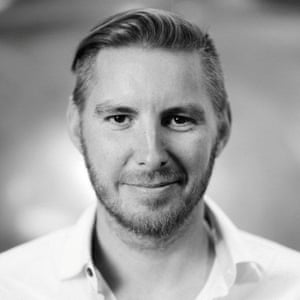 significant challenge for the province's healthcare system. The demographics may help explain why a province with conservative tendencies has become so open to the marijuana industry. "I think it's just the attitude that we have to have – as a smaller province with some challenges – that we have to look at these economic opportunities and be aggressive about them," said Gallant, the province's premier. His government has invested C$4m in a loan to one medical marijuana startup, Zenabis, in order to help build a facility in northern New Brunswick that aims to create more than 200 jobs. In August, a senior government official suggested that these jobs may just be the tip of the iceberg; telling reporters that the sector could become a major economic driver in the province and create thousands of jobs. The expectation saw New Brunswick become among the first jurisdictions in Canada to establish a working group to explore the issues around legalisation,ranging from how it will be sold to where products could be used. "There's going to be production and distribution and sales of this across the country," said Gallant. "So it's a question of whether we as New Brunswickers can make sure we act quickly to benefit as much as possible from that." The provincial government has also invested in OrganiGram – currently the province's only licensed marijuana producer – providing up to C$990,000 in payroll rebates for the creation of dozens of jobs over the next three years. The government's investment came just as OrganiGram acquired another 136,000 square feet of industrial space in order to ramp up production, said Ray Gracewood, the company's chief commercial officer. "It's fair to say that there really isn't a model that we can look to to provide a turnkey solution," said Gracewood. "So in a sense, I think Canadian industry is blazing a trail internationally from a legitimate sort of regulated industry. We're already starting to get calls from representatives from other countries, asking what we're doing." It hasn't all been smooth sailing; OrganiGram and two other licensed producers in Canada recently issued a voluntary recall of much of its products sold in 2016 after five lots tested positive for low levels of two unapproved pesticides. The company has since put in place new growing and harvesting protocols. The fast-growing industry has also been in a holding pattern as of late. Some worry that the federal government's timeline of July 2018 is too ambitious, given the scope of work likely to be left to the provinces. A date of 2019 has been floated as more likely. And while eight US states and the District of Columbia have voted to legalise recreational marijuana, the White House has hinted that the Department of Justice will do more to enforce federal laws prohibiting recreational marijuana, raising concerns over how Canada's approach will coexist with a potential crackdown south of the border. Nearly 400,000 people a day cross the shared border between Canada and the US, and any clampdown on the border could have economic repercussions for Canada, which last year sent three-quarters of its exports to the US. Still, many in this province continue to push forward. In October, a New Brunswick college announced it would launch a specialised program on marijuana cultivation aimed at prepping potential workers for everything from quality control to harvesting. The program, which could be on offer as early as autumn of this year, will compensate for the fact that "most of the experience that exists within the cultivation of marijuana happens in the black market", said Gracewood. It's a necessary development as the industry moves out of the shadows and into legalisation – and another building block that could help the province reap the benefits. "This industry is going to exist whether New Brunswick likes it or not. And the thing that's most encouraging to me, is that as a province, they've truly embraced the opportunity," said Gracewood. "My sense is that New Brunswick will be one of the most prepared provinces in Canada when the opportunity arises."
2017/04/08 – Out of the closet!
2017/04/08 – Raccoon plays with bubbles
2017/04/08
2017 marks the 100th anniversary of de Stijl and to honour the movement's vision, legacy, and influence many cultural institutions in the Netherlands will host events dedicated to Dutch neoplasticism throughout the year. To prep culturally curious travellers, we've put together the following list of interesting facts associated with De Stijl.
The movement took its name from an art magazine
In 1917, Dutch painter and publisher Theo van Doesburg issued the first edition of de Stijl magazine. This journal contained work from several international artists that van Doesburg had befriended after World War I, who collectively worked within modern abstract art. Soon after, these like-minded figures united under the title de Stijl (or neoplasticism) and continued to promote their work through van Doesburg's publication.
De Stijl's original proponents followed principles drawn from western philosophy
By employing asymmetrical structures, geometrical lines and simple colours, De Stijl's original proponents believed that they could abstract beyond the limits of conventional art. Although most of these artists agreed that their work should follow a set formula, they often argued over details and never produced a unified aesthetic theory.
However, they were clearly indebted to western philosophy and repurposed ideas from several important thinkers. For example, their work constantly alludes to conflict, resolution and synthesis, a theme borrowed from G. W. F. Hegel's dialectic method, whilst many philosophers, including Plato, have argued that two-dimensional shapes are the most elementary, and therefore essential aspects of reality.
Piet Mondrian and Theo van Doesburg argued over diagonal lines
After publishing the first issue of De Stijl magazine in 1917, Theo van Doesburg remained the movement's chief ideologue and facilitator until his death in 1931. Around 1925, van Doesburg decided to begin including diagonal lines in his work and argued that other artists should follow suit, despite de Stijl's former allegiance to right angles. Piet Mondrian vehemently contested this new direction and subsequently broke from de Stijl.
Gerrit Rietveld's Red Blue Chair Was Originally Quite Plain
Despite its iconic status, Gerrit Rietveld's Red Blue Chair wasn't originally designed according to De Stijl's principles. In fact, his first model was made from unstained beech wood and remained unpainted until the early 1920s, when Bart van der Leck suggested its current colour scheme to Rietveld.
Piet Mondrian And Gerrit Rietveld never met in person
Although Piet Mondrian and Gerrit Rietveld were among the most famous members of de Stijl, they never actually met but corresponded by letter. In fact, despite Theo van Doesburg's ongoing efforts to promote de Stijl, the movement never really unified and its members rarely communicated in person.
Piet Mondrian was a Post-Impressionist painter before he joined de Stijl
Before relocating to Paris in 1911, Piet Mondrian worked in the Netherlands as a Post-Impressionist painter. During this early phase in his career, Mondrian painted many exceptional pieces that hint at his eventual shift towards abstraction. Several of these paintings utilise primary colours to emphasise natural patterns and demonstrate that Mondrian was clearly influenced by cubism.
De Stijl massively influenced domestic and international architecture
During the early part of the twentieth century, many architects in the Netherlands began to experiment with structural design. Members of de Stijl were at the forefront of this movement and designed several impressive buildings that adapted geometrical shapes into three-dimensional compositions. Although only a handful of these buildings were actually constructed in the Netherlands, de Stijl's ideas eventually travelled beyond Dutch borders and influenced countless architects.
Gerrit Rietveld designed an incredible house in Utrecht
In the 1920s, Gerrit Rietveld was commissioned to design a house for a wealthy Dutch socialite called Truus Schröder-Schräder. This project led to the construction of the Rietveld Schröder House in Utrecht, which is currently owned and managed by the city's Centraal Museum. The interior of this building is divided by adjustable panels which were used to separate or merge living spaces. Today, this wonderful building is open to the public.
THE BEST EXHIBITIONS IN AMSTERDAM THIS SPRING
The second quarter of Amsterdam's cultural calendar is marked by several important museological events, including the largest ever retrospective of Dutch photographer Ed van der Elsken work and the first full-scale exhibition dedicated to Martin Scorsese. In anticipation of this exciting period, we have put together the following list.
📅  Wednesday, March 22 – Sunday, May 14th; In 2002, two Van Gogh paintings were stolen from the Van Gogh Museum. These artworks were recently recovered in Naples by the Italian police and have since returned to their rightful place in Amsterdam. Both paintings depict rural Dutch life and were produced by van Gogh before he relocated to France in 1886. Titled View of the Sea at Scheveningen and Congregation Leaving the Reformed Church in Nuenen, the paintings will be displayed at a special exhibition called Van Gogh Returns throughout spring. 
ED VAN DER ELSKEN – CAMERA IN LOVE
📅  Saturday, February 4th – Sunday, May 21st Ed van der Elsken is regularly cited as the most important Dutch photographer of the 20th century and developed a distinctive, intimate style of photography that deliberately eschewed artistic objectivity. As a street photographer, van der Elsken frequently interacted with his subjects in order to draw out their individual quirks and characteristics. The Stedelijk Museum will present the largest ever overview of his work throughout the second quarter of 2017.
WILLIAM EGGLESTON – LOS ALAMOS
📅  Friday, March 17th – Wednesday, June 7th; This spring FOAM will present Willliam Eggleston's early series Los Alamos. Eggleston was among the first figures to champion colour photography and successfully adapted the medium into a recognised art form. Whilst travelling through the southern states of America in the mid-1960s Eggleston began to experiment with colour and produced an influential collection of photographs that valorise mundane aspects of American life.
MARTIN SCORSESE – THE EXHIBITION
📅  Thursday, May 25th– Sunday, September 3rd; As part of an ongoing series of exhibitions dedicated to esteemed filmmakers, in spring 2017 the Eye Film Institute will honour American director Martin Scorseses' groundbreaking contributions to cinema by presenting hundreds of items associated with his filmography. Besides this phenomenal collection of clips, stills and props, the Eye Film Institute will also organise screenings of Scorsese' work throughout the season.
GOOD HOPE. SOUTH AFRICA AND THE NETHERLANDS FROM 1600
📅  Friday, February 17th – Sunday, May 21st; By presenting over 300 individual artefacts, documents and artworks linked to the Netherlands' and South Africa's shared history, the Rijksmuseum's latest exhibition critically examines the enduring effects of colonialisation. The exhibition is actually the first of its kind and has been praised for its unflinching portrayal of Dutch imperialism, colonial slavery and Apartheid.
SAMUEL JESSURUN DE MESQUITA
📅  Monday, January 23rd – Sunday, June 11th; Like many other Dutch Sephardic Jews, Samuel Jessurun de Mesquita was murdered by the Nazis during World War II. Before the German invasion, de Mesquita was among the most celebrated graphic designers in the Netherlands and taught at Haarlem's School of Applied Arts where he tutored several influential Dutch figures including M. C. Escher. Fortunately, his highly influential oeuvre survived the war and will be on display at the Jewish History Museum until June 2017.
2016/11/28 – Canadian Prime Minister arouses scorn with praise of Castro

Canadian Prime Minister Justin Trudeau has got a lot comments and criticism for his tribute to Fidel Castro. Especially on social media arouse his warm words to the deceased Cuban leader scorn. The parodies tumble over each other. Trudeau emphasized in his reaction to the death of Castro the positives he saw in his life and work. He left to mention that Castro was notorious for making its violations of human rights and the silencing of political opponents. In his statement said Trudeau: "Fidel Castro was a leader who was larger than life and his people served more than half a century." "Castro also cites a
legendary revolutionary orator, which significantly improved the education and health care in his country." While Trudeau also called controversial, he emphasized how recognize both supporters and opponents of his love for the Cuban people and constant affection expressed for 'El Comandante'.
Friendship
Trudeau also recalled the friendship between his father, Pierre Trudeau and Fidel Castro. Pierre Trudeau was twice prime minister of Canada. When he died in 2000, met his son Justin Fidel Castro at the funeral. Canadian Prime Minister concluded his statement with condolences for the "family, friends and supporters of Mr. Castro. We join with the people of Cuba in their grief over the loss of this extraordinary leader."
2016/11/28
2016/11/26 – Potato Croquettes with Bayonne Ham – Recipe (6 servings)
Here is a typical scene from my kitchen on any given night: I'm peeling potatoes and frankly in a hurry to tend to other, more rewarding parts of the cooking. So I ask whoever is next to me, my husband, the children, or even a guest, "Don't you think that's enough potatoes?" The answer is almost always the same: silence, then a hesitant, "Well, I think we could do with a few more." Because I have a deep- seated fear of cooking too little food, I always listen and then we end up with a small mountain of mashed potatoes that we simply can't finish. The good thing is that they are easily reinvented the following day, such as in these little croquettes. Frying them in oil gives them a thin crisp exterior, and the Bayonne ham adds delicious flavor. These croquettes go equally well with cold beer or yesterday's wine, whatever that happened to be.
Ingredients
1 pound / 450 g russet potatoes
1 cup / 90 g grated  cheese, such as gruyère or comté
2 tablespoons / 30 g unsalted butter
1 tablespoon crème fraîche
¼ teaspoon grated  nutmeg
6 slices bayonne ham or prosciutto, chopped
1 large egg
½ cup / 60 g all-purpose flour
½ cup / 75 g panko or unseasoned dried bread crumbs
¼ cup / 60 ml vegetable oil
fine sea salt and freshly ground black pepper
chopped fresh flat-leaf parsley (optional)
Steps
Peel the potatoes and cut them into ½-inch / 1.3 cm cubes. Put them in a saucepan, cover with salted water, and boil over medium-high heat until tender, about 15 minutes. Drain well and then mash with a potato masher. Add the cheese, butter, crème fraîche, nutmeg, and ham.
In a small bowl, beat the egg. Put the flour in a second bowl and the bread crumbs in a third. Shape the potato mixture into small balls, each about the size of a walnut (you should get 10 to 12). Dust with flour, dip in the egg to coat, and then roll in the bread crumbs.
In a large skillet, heat the oil over high heat. You can test if it's ready by throwing in a small piece of bread; if the bread turns golden in a few seconds the oil is ready. Fry the croquettes on both sides until golden brown, about 1 minute per side. Drain on paper towels.
Season the hot croquettes with salt and pepper and sprinkle with parsley, if you like, before serving.
2016/11/24 – Business executives urge 'bold leadership' on climate policy from PM, premiers
OTTAWA — Canadian corporate executives whose companies together employ more than a million people are urging Prime Minister Justin Trudeau and the premiers to press ahead with collective climate action, including putting a price on carbon emissions. An open letter to the first ministers was released Thursday morning ahead of a planned meeting early next month in Ottawa, where the federal Liberals hope to finalize a pan-Canadian plan with all the provinces and territories. "Canada has a history of taking far-sighted policy actions to capitalize on the opportunities created by global economic change," says the letter.
"The time is right for the same kind of bold leadership."
The 60-plus signatories include business leaders representing oil and gas, mining, forestry products, cement making, aluminium smelting, information technology, banking, grocery retail and building materials. Together, their businesses have revenues exceeding $300 billion annually. Through the Smart Prosperity Institute based out of the University of Ottawa, they've made common cause with clean energy associations, environmental advocacy groups, organized labour and environmental think tanks. Their common message is that enlightened self-interest dictates Canada strive to be at the front of the pack as the global economy makes a historic shift. That includes putting a price on CO2 — "the most cost-effective way to reduce emissions, stimulate innovation and drive energy
efficiency," says the two-page letter. Michael Crothers, the president of Shell Canada, said the open letter was conceived in September — before the election of U.S. president-elect Donald Trump shook the climate policy world — and is aimed less at the premiers than at fostering discussions with other industrial sectors across Canada. "I've had a few with peers in our (oil and gas) sector but also with other business leaders," Crothers said in an interview. "It really starts to help crystallize into the implementation phase what are some of the key issues that people are concerned about, and how can we address those." As the letter states, revenues from carbon taxes can be used to help vulnerable households but also to help "businesses to remain globally competitive while making the low carbon transition." That the signatories include the heads of the Aluminium Association of Canada and the Cement Association of Canada — two sectors considered most vulnerable to energy costs and emissions reductions — speaks volumes. Aluminum association president Jean Simard said Canada now has the lowest carbon footprint aluminum in the world, and competes mainly with China, which controls half of global production. The carbon intensity of aluminum production is down 60 per cent in Canada, while absolute emissions have fallen by quarter, Simard told The Canadian Press. "We think that now Canada has reached a point — not only for our industry but other industrial sectors — where we have to bring together a mix of policies, including carbon pricing on a national basis, in order to get Canada's economy as the best-in-class in the mid term," he said.
It's a message that still has many detractors.
Lisa Raitt, a former Conservative cabinet minister now contending for the federal party's leadership, rose in the House of Commons on Wednesday to decry Liberal climate policies, including a new national floor price on carbon "that will drive up the cost of everything and force business to lay off workers." Those concerns have only intensified since Canada's dominant trading partner elected a Republican president and Congress that are decidedly cool to the fight against global warming. Simard suggested factors such as the strength of the U.S. dollar will have at least as much impact on Canada-U.S. trade as carbon pricing. "We think we've passed the point of no return in terms of world commitment on carbon reduction," he said, adding that what's needed now are government policies to "accelerate the transition" while keeping Canadian industries competitive. According to the World Bank, seven of the world's 10 largest economies have priced emissions of carbon dioxide in some fashion. China is set to bring in a cap and trade system next year, which will be the world's largest carbon market. Smart Prosperity chairman Stewart Elgie said the low-carbon economy transition is underway, yet the world will continue to use oil and gas, cement and minerals for decades to come. "Canada's niche in that low-carbon economy is to be one of the cleanest producers of those products," said Elgie. "The only question for Canada is: 'Are we going to keep pace with that change so we can secure our future prosperity?'"
2016/11/20 – Winter storm causes Sports Dome to collapse
The Sports Dome collapsed overnight after developing a tear in the fabric from Friday night's storm. For the second time in about six years, the Sports Dome has col-lapsed. The dome developed a tear in the fabric and collapsed sometime over-night. There is no definite cause for why or how the tear happened, but Friday's strong winds and heavy snow fall is believed to be a factor. Sports Dome management has been contacted, but was not immediately available.
---
QUOTE: Yesterday a Colorado low pressure system created blizzard like conditions through Minnesota and Northern Ontario. It began with freezing rain and quickly developed into snow flurries as the temperature dropped. By Friday evening the highways outside of Thunder Bay were closed to traffic. A couple of days back it was 13 C and no snow here. Today with the windchill it is -15 C and about 15 cm of snow on the ground. However I awoke to very sunny conditions although very windy and cold outdoors. And not far from here the sports dome was damaged during the storm as the news report below shows. UNQUOTE
2016/11/20
2016/10/29 – Electric Six
2016/10/29 – Toronto
2016/10/28 – 'Justin Bieber buys penthouse on the Dam-square, Amsterdam'
Justin Bieber has bought an apartment in Dam Square in Amsterdam. Reported Show. Star Agent Leslie Rider said Thursday in the broadcast that Justin an apartment on the seventh, eighth and ninth floor has purchased the building at the Dam. ,,More than downtown that you do not go get it. As a neighbor to the king and queen, you can have poorer neighbors", said Rider, referring to the Palace on Dam Square. It would be the complex Dam3 where Christie's earlier artist impressions of published. The house, which has three floors and a lift, Justin Bieber would have cost about 24.5 million euros. Justin could involve the apartment of 1230 square meters next year. Justin can count property on exclusive services of the nearby five-star hotel Krasnapolsky. His car he can park by the hotel staff. The Canadian singer was earlier this month on a visit to Amsterdam as part of his tour. When he was spotted in the capital at various locations, including at the box office of Albert Heijn and a football square. Thursday was also announced that Justin's good friend Martin Garrix has bought a luxurious penthouse. Martin Garrix going to live on the 22nd floor of a complex on the South Axis in Amsterdam.
2016/10/25 – How a conflict over wild ricing on Pigeon Lake is drawing attention to Indigenous rights and traditional foods.
Ennismore, Ontario – Owners of cottages near Canada's Pigeon Lake have a bone to pick with James Whetung. For years, Whetung has been seeding the lake with wild rice. He harvests the crop and then sells packaged products through his company, Black Duck Wild Rice. But some cottage owners aren't happy. Pigeon Lake is one of the 250 lakes and waterways in the Kawartha Lakes region of Ontario, Canada. Located two hours east of Toronto, it is a popular destination for summer getaways, fishing, hiking, recreational boating, and building cottages. Since 2007, a group of residents of Pigeon Lake have been fighting Whetung's seeding of wild rice, claiming their shorelines are filled with the marshy plant that makes boating difficult. They've protested, held community meetings, contacted politicians, petitioned, and formed a group called Save Pigeon Lake. Whetung, however, insists that his interests are not entrepreneurial and that his aboriginal treaty rights allow him to harvest the rice. As a member of Curve Lake First Nation, he says it is part of a wider effort to revive the local indigenous culture, which was undermined by colonisation. "Our people have been using the rice for thousands of years," says Whetung. "The rice was decimated by the government, by other groups. Whenever they are building cottages or homes along the shore, they would dredge out the shoreline, [destroying the] rice." But underlying tensions exploded into a heated dispute last August, when Parks Canada, a Canadian government agency that manages national parks, lands, and waters, gave Pigeon Lake residents permits to cut down some of the wild rice beds. Now, the local First Nations claim their inherent treaty rights have been violated.
Troubled water
At first, cottage owners say they were baffled by the changes on Pigeon Lake. "We had noticed that there was a growth of wild rice," says Larry Wood, a Pigeon Lake resident. "But we couldn't understand what was causing it." Wood has lived on the lake since his father first bought the waterfront land in 1947. Multiple generations of his family have settled here since, building homes along the shoreline. "The idea was that their families were each going to have a place here," says Wood's wife, Marilyn. "Larry's sister lives two doors down, and his nephew lives where his dad used to be." Their living room is adorned with family photographs, showcasing fishing trips, grandchildren swimming, and other fond memories. The Woods speak about the surrounding land and water as if it were kin, including the little rice bed sprouting in the lake. "That rice bed has always come up in the spring," says Marilyn. "We can almost tell you the day." "It's been there ever since I was personally here," adds her husband. "But its footprint didn't start to expand until this commercial harvesting." Starting in 2007, as the lake grew thicker with long, grassy beds, Pigeon Lake cottage owners became increasingly alarmed. Residents claim the plant is a nuisance, getting tangled in boat engines and affecting waterway navigation. "It got to the point where people could not get out in their boats to enjoy the water," says Larry. "They couldn't use their beaches because of the rice growing so closely to the shoreline." One morning, Wood awoke to the roar of an engine. Outside, he spotted a boating vessel with a large propeller on the back. "I thought it was an airplane taking off," he says. "But that was [Whetung] harvesting with an airboat with a scoop on the front." They soon learned about Whetung's mission to seed the lake with wild rice, and that he was selling his product commercially. The residents claim that their shorelines are now filled with the plant. "It's a major concern to anyone who uses the lake," Larry says. He insists that he respects First Nations people's right to harvest existing rice beds, but says he and other residents object to the noise from Whetung's airboat and his active planting of the crop, which now reportedly covers an estimated 10 to 15 percent of the lake's 57 square kilometres. "The Williams Treaty gave the First Nations the right to hunt, fish, and gather food for social and ceremonial purposes," says Larry. "We have absolutely no problem with that. "Our issue is the deliberate seeding of the lake where rice never existed." "The total lack of respect for all the people around here is the most upsetting [thing]," adds Marilyn, with tears in her eyes. "It's like we don't count. This has become his farm. Our kids grew up playing here and swimming. All of us are affected by what he's doing." Moreover, the Woods and other cottage owners oppose Whetung's commercial interests in the wild rice. "He may give or sell some of his rice to his fellow First Nations people," says Larry. "But he isn't doing it for any other reason than to have a business. He sells it to wineries and on the market to Peterborough." "No one should have the right to plant a crop in the waterways for his own personal gain." The Woods and other cottage owners took action, forming the Save Pigeon Lake group. After several years of lobbying various government bodies to stop the rice farming, Wood and his neighbours were issued a permit in July 2015 by Parks Canada, which oversees the Trent-Severn Waterway. Pigeon Lake is part of this 386km inland canal system. The permit allowed limited removal of "aquatic vegetation" from Pigeon Lake. According to Parks Canada, it was intended to give cottage owners "the ability to safely navigate from the shoreline to the main channel in Pigeon Lake". Subsequently, a private company was hired to remove the rice beds from shoreline areas. But during this process, a critical step was skipped: No one consulted the local First Nations communities.
2016/10/18 – 19 reasons why the world has fallen in love with Canada's prime minister Justin Trudeau
Justin Trudeau's Liberal party won the Canadian general election in October in a conclusive victory. Since then, the new prime minister has been busy showing the rest of the world why he's the best Justin out of Canada since Bieber.
While conspiracy theories abound over his "nice guy" tactics, Trudeau has been internationally commended for his compassionate stance on the refugee crisis, agreeing to accept 25,000 Syrian refugees by February 2016 – a sharp turnaround from the policy of his Conservative predecessor, Stephen Harper. That's not the only reason the world is fan-boy-and-girl-ing all over him, though. It's because Tru-beau goes that one step further:
1. He went to the airport to personally greet Syrian refugees and help hand out warm winter coats.
2. His campaign ads poked fun at himself:
3. He named a gender balanced cabinet "because it's 2015".
4. He's probably the only person on the planet who can get away with flirting with the Queen.
5. He's ready to step up Canada's commitments to solving climate change.
6. His party trick appears to be balancing babies with one hand.
7. He's a Renaissance Man
8. He's committed to achieving justice for disappeared Indigenous women.
9. He's a great dancer.
10. He's a hopeless romantic.
11. He's playful.
12. He speaks to your inner nerd by going to ComicCon in a Superman t-shirt.
13. He's humble about his privileged upbringing.
14. He takes his shirt off a lot.
15. He's open about his experiences with drug use, and why he supports legalising marijuana.
16. Trudeau admitted he bought a Millennium Falcon Lego set for his kid when he was too young, just so he got to build it himself.
17. He starred in a made-for-TV historical movie.
18. He might be one of the only world leaders with a tattoo.
19. He said that if a movie is ever made about his life he wants to be played by Meryl Streep.
2016/10/15 – Mail quotation:
Winnie the Pooh character by British author A.A. Milne turns 90
David and I stopped many times to have a picnic lunch in the park with a statue erected in White River Ontario that commemorates the place where it all began in 1914. White River is a small community located on the Trans-Canada Highway #17 between Sault Ste. Marie and Thunder Bay (about 5 hours drive east of Thunder Bay). It is surrounded by boreal forests, rivers and lakes and wildlife native to this region of the province of Ontario including black bears.
http://www.cbc.ca/books/2016/10/winnie-the-pooh-facts.html
Here is a link to You Tube where you can watch a movie about the history of Winnie the Pooh. It was a co-production between British and Canadian tv and stars Stephen Fry and Michael Fassbender
https://www.youtube.com/watch?v=W-83-BF0NWk
Brian
2016/09/28
The Right Honourable 

Justin Trudeau 

PC MP

Trudeau in June 2016

23rd Prime Minister of Canada

Incumbent

Assumed office
November 4, 2015
Monarch
Elizabeth II

Governor General

David Johnston

Preceded by

Stephen Harper
Minister of Intergovernmental Affairs and Youth

Incumbent

Assumed office: November 4, 2015

Prime Minister

Himself

Preceded by

Denis Lebel
Leader of the Liberal Party

Incumbent

Assumed office: April 14, 2013

Preceded by

Bob Rae (interim)
Member of the Canadian Parliament for Papineau

Incumbent

Assumed office: October 14, 2008

Preceded by

Vivian Barbot
Personal details
Born

Justin Pierre James Trudeau, 

December 25, 1971 Ottawa, Ontario, Canada
Nationality
Canadian
Political party
Liberal
Spouse(s)
Sophie Grégoire (m. 2005)
Relations
Alexandre Trudeau (brother), Michel Trudeau (brother)
James Sinclair (grandfather), Charles-Émile Trudeau(grandfather)
Children
3
Parents
Pierre Trudeau (father), Margaret Sinclair (mother)
Residence
Rideau Cottage (1 Sussex Drive)
Alma mater
McGill University, University of British Columbia, University of Montreal
Religion
Roman Catholicism
Signature
Website
Official website, Personal website
2016/08/26 – A stroll in the woods with artist Brian Holden will surprise you in many different ways
2016/08/16 – Brian Holden has sent me an update of the skyline of Toronto, Ontario, Canada.
2016/08/09 – DAVID. Is this to be proud of or just showing off? Brian is obviously a bit embarassed  (Thunder Bay, May 2001).
2016/08/09 –  Gentlemen, is this a mere coincidence or more…?
2016/08/09 – May 2001, Thunder Bay, Centennial Park: from left to right: Pierre Bormans, yours truly, Brian Holden and David Belrose.
2016/08/03
QUOTE:
Currently the tallest residential building in Canada located corner of Yonge St and Bloor St. Toronto… I believe it is 84 floors. It is uptown Toronto and not part of the waterfront corporate headquarters collection of highrise towers. Notice how the glass forms a elongated hour glass shape… supposed to represent a waterfall design. All units including the penthouse have outdoor balconies.
There is another being constructed on the South corner across from this that will be even taller and more planned. Toronto is the new Chicago and the population of the metropolitan region is around 6 million people.
Toronto has the most construction presently of any city in North America… a lot of foreign investment. However the real estate market has gone insane and the average price of a single family home or luxury highrise condominium in cities like Toronto, Vancouver and Montreal is well over CA$1 million .
UNQUOTE.
2016/07/29 – Our first meeting, back in May 2000: from left to right David Belrose, yours truly, Brian Holden.
2016/04/06
A journey from Toronto to Vancouver mainly by rail. We take the train from Toronto to Jasper, motor coach to Banff and then The Rocky Mountaineer train arriving at Vancouver.