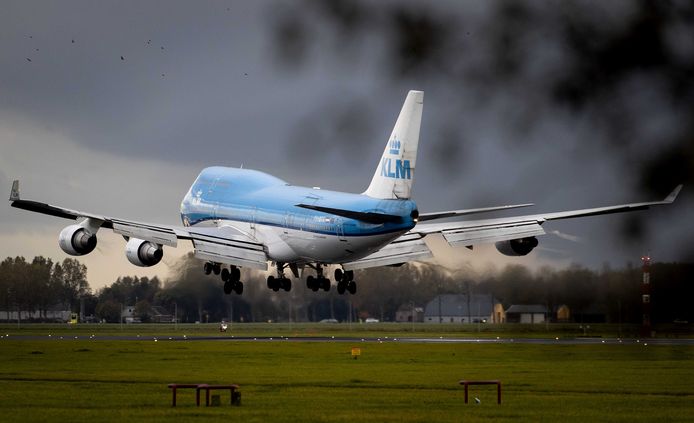 Survival package (in billions):
€ 3.4 / £ 3.066 /  US$ 4.0 / CA$ 5.24
Tensions are running high among KLM staff, now that the VNV pilots 'union refuses to sign a wage offer until 2025. In the cockpit, several pilots already had a note with the text:' On behalf of all other KLM employees and their families , thanks. We will see you at the EIA. (Employee Insurance Agency is a Dutch government agency that is responsible for implementing -among others- the unemployment law)" In private Facebook groups for KLM employees, the criticism is not tender. Ground and cabin crew call the pilots "arrogant" or "snobs". They blame the pilots for having their jobs at stake because they don't want to give up enough. KLM employees believe that pilots have "generous salaries" and "shouldn't eat caviar for a while." They also argue that less salary is still better than unemployment benefits.
Hard demand

Minister of Finance, Wopke Hoekstra, has set a strict requirement for a support package of 3.4 billion euros (emergency loans and credit guarantees) for KLM. Personnel earning more than average earnings will have to forfeit their wages until 2025, because the government is helping for so long. For some of the KLM staff this means that they lose up to 20 percent of their salary. Five unions signed the clause, FNV (for ground and cabin crew) wants to discuss the requirements with the constituents first. However, the Association of Dutch Airline Pilots (VNV) refuses to sign, because Hoekstra made extra demands last minute. The pilots are willing to give up their salary until 2022 and will do whatever it takes to save KLM after that time. But they do not think it realistic to make a wage offering for such a long time in advance. They feel that they have been put on the spot because on Friday a wage requirement until 2025 was suddenly set. The pilots have to decide in a day to surrender a total annual salary. Moreover, they feel that their personal situation is ignored. They may earn well, but they live accordingly.
Impact
The messages have also reached the pilots' management. They have sent a message to the pilots to encourage them. "We have already seen pamphlets in the operation addressed to us as pilots. We deeply regret this and distance ourselves from the form and content. We understand that this situation also impacts you", the executives said. They end with the pilots "wishing them good luck in the coming days." KLM spokesman Lisette Ebeling says there is attention for the unrest within the organization. "It is difficult to say anything about it, but we do everything we can to combat polarization. That doesn't help anyone."
Keep silent
For the time being, KLM also does not want to say anything more about the squabbles surrounding the 'commitment clause', in which the staff are asked to agree to a wage offer that will not last until 2022, as initially agreed, but until 2025. The airline is now bothering a media silence: ,,Should the situation with the unions and the government give cause to do so, KLM will report this in the media. Insofar as this is not the case, KLM will refrain from commenting."
Salaries of pilots:
€ 275,000 KLM
€ 260,000 Lufthansa
€ 170,000 Emirates
€ 168,000 Transavia
€ 136,000 Turkish Airlines
€ 135,000 Easyjet, Ryanair
€ 132,000 Brussels Airlines, TUI
€ 120,000 Qatar
Minister Hoekstra (Finance) does not want to talk to the VNV pilot's union about a longer wage sacrifice by KLM airline pilots, according to sources from The Hague. A deal on this must be concluded with KLM. According to an insider, the minister sees only KLM as a 'contract partner', not the trade union movement. So the Ministry of Finance is now waiting for a message from the airline, as soon as it has come out with the unions itself. Until then, access to a support package will be suspended.
Last night, VNV reiterated on the website "its commitment to the healthy future of KLM". "Of course we would like to talk to KLM to make additional agreements." But the union also wants to talk to Minister Hoekstra, or at least a top civil servant. In a letter today to the minister, who holds this newspaper, VNV literally writes: "We request that you consult with us about this in the short term in order to resolve the situation that has arisen. You can then provide clarity about exactly what you are looking for. In that case, we will invite you (or a responsible employee) for a meeting on Monday, November 2."
Rejection before
The letter also shows that the minister previously did not want to discuss emergency support separately with the trade union movement. "More than six months ago (end of April) we contacted you to get in touch. Unfortunately, the response was negative, on the grounds that the government is not concerned with the terms of employment. KLM and the trade unions should make agreements about employment conditions", it says. In recent days, a crisis has arisen around the future of KLM. The trade union movement must make a wage sacrifice from Hoekstra until 2025, much longer than current collective labor agreements. In addition, up to 20 percent of the terms of employment is surrendered. Only then will KLM be able to regain access to a support package consisting of emergency loans and credit guarantees of EUR 3.4 billion. Five trade unions – CNV, De Unie, NVLT, VNC and VKP – have agreed to the minister's demand. FNV (Cabin and Ground) is still considering, but has indicated that it will never risk the future of KLM. Only the VNV pilot's union refuses to commit for the time being, although the union says it will "take responsibility".
Impasse remains in place
VNV has previously only made a deal for a wage sacrifice until 2022. The union reiterates in the letter to the minister that it only wants to enter into a discussion about the contribution of the pilots "that the situation requires at that time". The deadlock thus remains. FNV negotiator Joost van Doesburg says on Twitter: "Today we as FNV have another day full of conversations and agreements about the situation that has arisen at KLM. If there's any news, you're going to hear it. "But an airline spokeswoman denies that official negotiations are taking place today. A VNV spokesperson also states that he does not know that the teams will now sit down together, although consultation always takes place. KLM has repeatedly announced in recent days that the company is experiencing the worst crisis in its 101-year history. "Covid-19 has undermined the good results of recent years. To secure the future of the company and the network for the Netherlands, the government loan and guarantees on bank loans totaling EUR 3.4 billion are crucial."