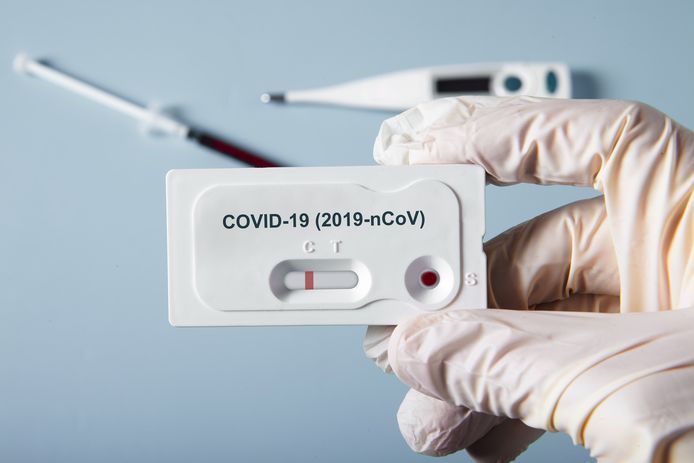 First corona superfast tests approved: breakthrough for the jammed test chain.
The new, super-fast corona test is reliable enough to use, researchers conclude after two weeks of shadow tests. The protein test is ready in 15 minutes and can be a breakthrough for the jammed test chain. Two types of rapid tests have now been approved by the cabinet. Researchers from the UMC (Utrecht Medical Center) and the Amphia hospital in Breda ran "shadow tests" in the local test line for weeks with material from manufacturers BD and Abbott. People with complaints were given the regular PCR test (the "gold standard") and the new superfast test. The rapid test did not remove all infected cases, but medical microbiologist Marije Hofstra from the UMC is nevertheless enthusiastic: "We were able to compare the tests 1,257 times. Of these, 90 people tested positive with the rapid test and 123 with the PCR test."
The rapid protein test appears to be less sensitive than the PCR variant. Hofstra: ,,This occurs when the amount of virus that is present is very low. We see this for example in people who have had complaints for some time. That does not have to be a problem, because people with a lower amount of virus probably contribute less to new infections." The super-fast tests – ready in 15 minutes – represent a potential breakthrough for the stalled testing policy. The protein test can be used to directly check large groups – for example, staff in healthcare and education – so that test lines and labs are not overloaded.
Worldwide
The superfast test is advancing worldwide. In the US, four have been approved by the authorities in recent months, Europe is soon to follow. Swiss pharmaceutical giant Roche expects to be able to deliver 40 million corona rapid tests per month, rising to 80 million by the end of the year, a spokesman reports. Virologist Ab Osterhaus was recently optimistic about the rapid test: "If you see how difficult it is now to perform so many PCR tests every day, the GGDs cannot handle it, labs have shortages. Then such a quick test can help. You lose something in reliability, but if you can relieve the system with that… "
Outside the hospital
Experts expect the protein and PCR assays to continue to be used in parallel. Hofstra: ,,We will continue to use the PCR test, for example, on patients who come to hospital. You want to know for sure whether they are infected, even if they only have a small amount of virus with them. But for people with mild complaints outside of hospital care, the rapid test seems a very nice alternative". In time, this test may also be used by people at home, such as a pregnancy test. "However, more research is needed for that. You also want to see, for example, whether the self-tester has inserted the stick deep enough into his nose. Because we have to prevent Covid-19 positive people from having the idea that they cannot infect anyone after a test that has not been carried out properly." With the protein test, the risk is greater that infections will be missed, so if in doubt, a new test will always follow.
Big scale
A spokesman for the Ministry of Health (VWS) says that hard work is being done to deploy the rapid tests on a large scale. However, it must first be clear how the tests can best be used in practice. The ministry could not yet say when there will be more clarity about this. The Ministry of Health, Welfare and Sport is investigating, among other things, how the corona rapid tests best fit into the test strategy. They may be used at specific locations such as nursing homes or for specific target groups. "But that is still being investigated." The Ministry has taken an option on a total of 2.4 million rapid tests. Three other tests are being examined for reliability. It is not yet known when there will be more clarity for those three.