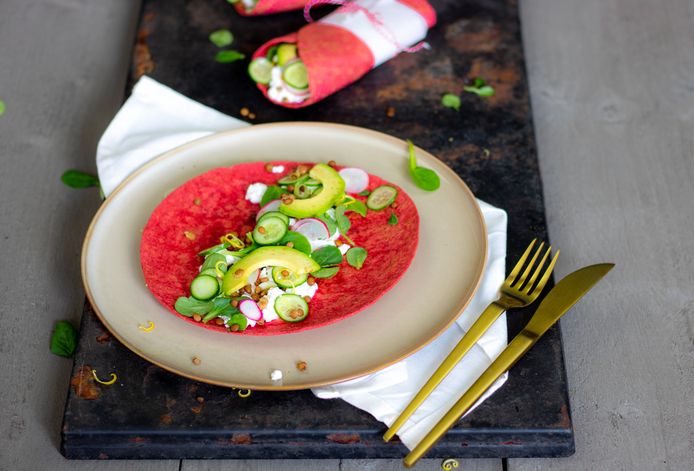 Beetroot wraps with lentils and cottage cheese.
Preparation time: 15 minutes
Number of people: 2
Ingredients
– 6 beetroot wraps
– 200 gr lentils (canned)
– 50 gr lamb's lettuce
– 8 radishes
– 1 avocado
– 3 mini cucumbers
– 300 gr cottage cheese
– 1 lemon, zest
– ½ tsp chili powder
– pepper and salt
Preparation method
1. Mix the cottage cheese with the chili powder and lemon zest to taste. Keep some lemon zest behind for garnish.

2. Cut the radishes and cucumbers into thin slices. Remove the peel and stone from the avocado and cut it into slices.

3. Cover the wraps with the cottage cheese mixture. Fill the wraps with lamb's lettuce, lentils, radishes, cucumber and avocado. Season with salt and pepper. Top the beetroot wraps with the remaining lemon zest.
---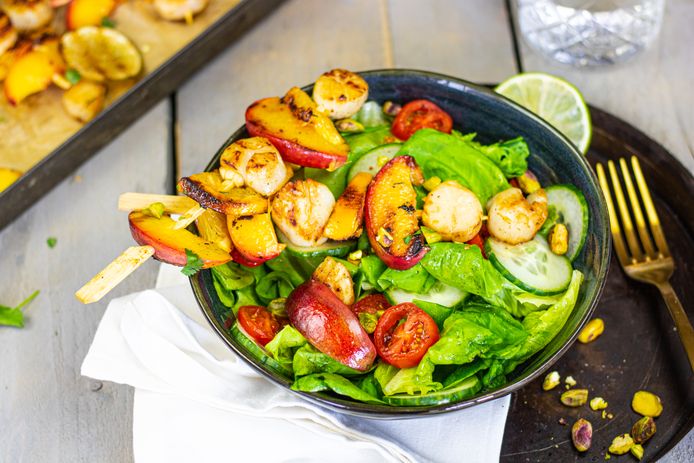 Salad with grilled scallops, nectarine and pistachios.
Preparation time: 30 minutes
Number of people: 2
Ingredients
– 1 lime
– 1 tsp soy sauce
– 1 tsp fresh ginger, finely chopped
– 2 tbsp sugar
– 12 scallops
– 1 nectarine
– 1 orange
– 150 g cucumber
– 100 gr snack tomatoes
– 150 gr butter lettuce
– 45 gr pistachios
– 2 tbsp mayonnaise
– 1 tsp honey
– 5 gr cilantro
– 3 tbsp oil
Preparation method
1. Mix the juice of ½ lime with 1 tbsp sugar, soy sauce and ginger. Marinate the scallops in the marinade for 30 minutes. Cut the orange and nectarine into wedges.

2. Thread 3 scallops and a wedge of orange and nectarine onto four skewers. Heat 2 tbsp oil in a grill pan and grill the skewers for 2 minutes on both sides or grill the skewers on the barbecue.

3. Cut the cucumber and snack tomatoes into slices and mix them with the lettuce. Then finely chop the coriander.

4. Heat 1 tbsp oil in a frying pan and fry the pistachio nuts until light golden brown. Sprinkle the pistachio nuts with salt to taste.

5. For the dressing, mix 2 tbsp mayonnaise with honey and some lime juice. Serve the salad with the dressing and place the grilled scallop skewers on the salad. Top the salad with the chopped cilantro.