Large forest fire in the Veluwe under control: 4 hectares burned down.
The nature fire at "National Park De Hoge Veluwe" near Otterlo seems under control. This is reported by the fire brigade, which has now started with follow-on loops. The fire raged Tuesday at the beginning of the afternoon. There is an estimated 4 hectares of forest and heather burned down.
The fire started around 12.45pm on the south side of the park in an area called Het Dal. It is not far from Oud-Reemst. Just outside the park there are the Harderwijkerweg and the Koningsweg, where De Pitstop snack bar is located. Several trees have caught fire. How exactly the fire could occur is unclear. Clouds of smoke could be seen from afar in the surroundings of the nature reserve.
The fire brigade is present with a lot of equipment at National Park De Hoge Veluwe to extinguish the fire. "Of course we take every form of fire seriously, but because of the drought we do this for sure," says a spokesperson for the fire brigade. A spokesperson for the park says that at the moment grass is burning. ,,But we expect that the fire department can quickly control the fire. Fortunately, there is not too much wind."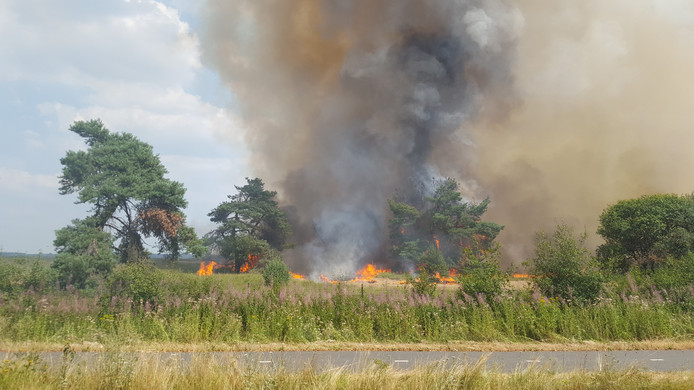 Evacuate
The fire brigade sent eight forest fire vehicles and extra water cars to the fire. The police was also involved. Hikers and cyclists had to leave the area. The Harderwijkerweg near Otterlo is closed because of the smoke development, according to the fire department. Nothing is known about the cause of the fire. The fire department can not yet say how large the area is that is on fire. The park is still open. The paths are quite far away from the fire. The park calls visitors to avoid the area around Oud-Reemst.