According to the Dutch media:
British duchess Kate gave birth to a healthy little boy (3827 gr).
______________________________________________________________________
Duchess Kate (36), the wife of the British Prince William, was taken to a hospital in London this morning for the delivery of her third child.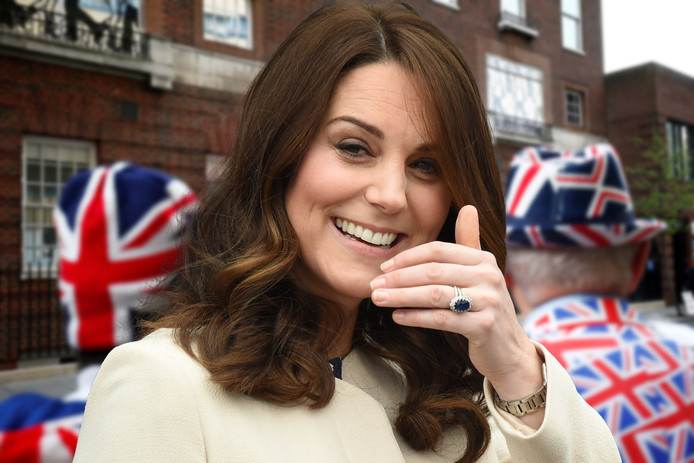 She was admitted to the private department of St. Mary's hospital in West London. Their two other children, Prince George (4) and Princess Charlotte (2) also came into the world. "She traveled by car from Kensington Palace to the Lindo Wing at St. Mary's Hospital," Prince William said in an official statement this morning, and the Prince is in hospital to assist his wife. The gender of the baby is not yet known. According to Prince William, he and Kate did not want to know during pregnancy whether it would be a boy or a girl. Immediately after it became clear that the princess had been taken to the hospital, the grounds for St. Mary's Hospital filled with journalists and royalty fans. She was, the royal family announced earlier, calculated on April 23rd. In the hospital, the princess has a team of at least twenty doctors and nurses at her disposal. Anyway, obstetrician Guy Thorpe-Beeston and gynecologist Alan Farthing are present at the birth. Both doctors were also at the deliveries of George and Charlotte. Immediately after the birth of George and Charlotte, Kate and William came out with the babies and posed extensively for photographers. Whether that will happen with baby number three is unknown. This depends on how the delivery takes place. After birth the baby receives the title of His (or Her) Royal Highness Prince (or Princess) or Cambridge: his or her royal highness, prince or princess of Cambridge.
Nauseous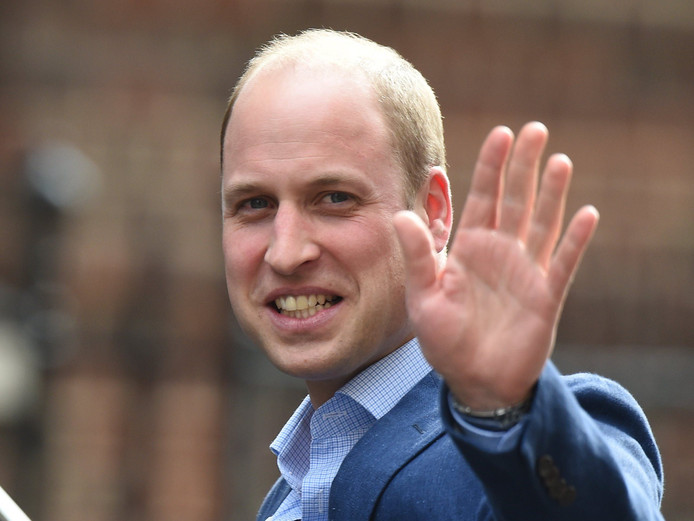 Just like the previous two times, the current pregnancy of Kate also had a difficult start. Kensington Palace announced on September 4 that William and Catherine were expecting a third child. The palace had to bring out that news because Catherine had to cancel appointments because of the pregnancy and the serious morning sickness that caused it. For example, she could not bring her son George to school on his first day of school, and in November Catherine left her husband William to travel to Finland alone because she was unwell. After the difficult initial period, Catherine's pregnancy went as far as she knew without any significant problems. The duchess appeared regularly and beaming with official obligations and worked until five weeks before the expected birth. On March 22, she and William in London made her last official visit before she went on maternity leave.
The third child of William and Kate is number five in the throne line of queen Elizabeth (92). After her death, it is the turn of Prince Charles, his son William, George, Charlotte, the baby and then Williams brother Harry, who next month marries the American actress Meghan Markle.
The first ten on the list of successions are successively:
Prince Charles (69), Prince of Wales, oldest child of Queen Elizabeth and Prince Philip, heir to the throne since 1952,
Prince William (35), oldest child of Prince Charles and Princess Diana,
Prince George (4), oldest child of Prince William and Catherine,
Princess Charlotte (2), second child of Prince William and Catherine,
the still unborn third child of Prince William and Catherine,
Prince Harry (33), second child of Prince Charles and Princess Diana,
Prince Andrew (58), third child of Queen Elizabeth and Prince Philip,
Princess Beatrice (29), oldest child of Prince Andrew,
Princess Eugenie (28), second child of Prince Andrew and
Prince Edward (54), fourth child from Queen Elizabeth and Prince Philip.
Immediately after the announcement of Catherine's pregnancy in September, the first bets were closed. Will it be a boy or a girl, what will be the day of birth and how much will the baby weigh? At betting offices such as William Hill and Betway, the traditional names are again a favorite, just as with the arrival of George and Charlotte. In the girl names Mary, Alice, Victoria and Elizabeth are often mentioned and James, Albert, Arthur and Frederick are popular choices with the boy names.
______________________________________________________________________
Kate Middleton's star team can take a sigh of relief now that Royal Baby 3 is healthy and the Duchess looked good today to get through a ring. Barely five hours after giving birth, Kate walked out of the hospital as if nothing had happened.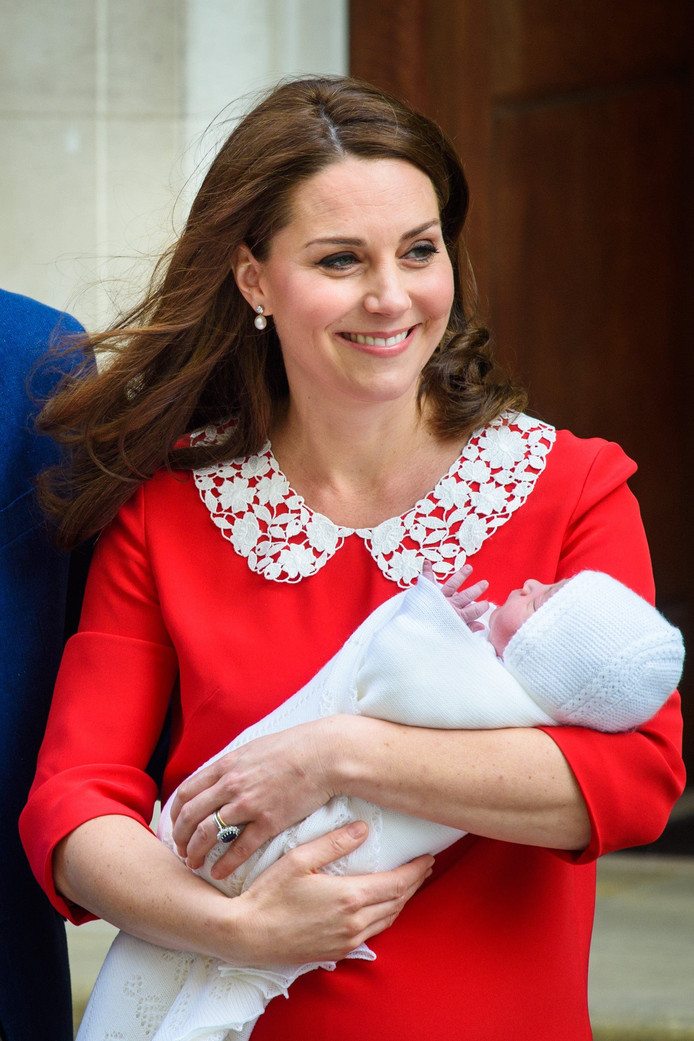 A radiant Kate (Catherine Middleton) in front of the doors of St. Mary's Hospital in London, the hospital where Prince George and Princess Charlotte were born, with her couple of hours old baby on her arm and her proud husband next to her. The red dress that the brunette wore was not quickly scooped out of her wardrobe. About the 'birth outfit' of a female member of the British Royal House is always well thought through, because the photos go all over the world. A color chart is used to choose a color that suits the skin. In the case of Kate is known that she would like to bring an ode to Williams mother, the late Princess Diana. Even today it was hit, because before the birth of her second son Prince Harry in 1984, Diana chose a red creation. Those who take the photos side by side see that Prince Charles, Diana and the little Harry were placed in the same way in front of the hospital gate.
The scenario of the big day has been ready for months. So Kates loyal personal assistant Natasha Archer arrived an hour before the birth in St. Mary's to deliver the dress designed by British designer Jenny Packham. Another important member of Kates star team is her personal hairdresser Amanda Cook Tucker. She makes sure that the brown locks of the Duchess are perfect even during a trip in the Himalayas, so a delivery is a breeze for her. Tucker said earlier that she always has 13 brushes, six combs and two hairdryers in her bag, just in case.
20 men
Before, during and after the delivery, Kate lacked nothing. The Lindo wing of St. Mary's is known for its five-star treatments, which are aimed at constant pain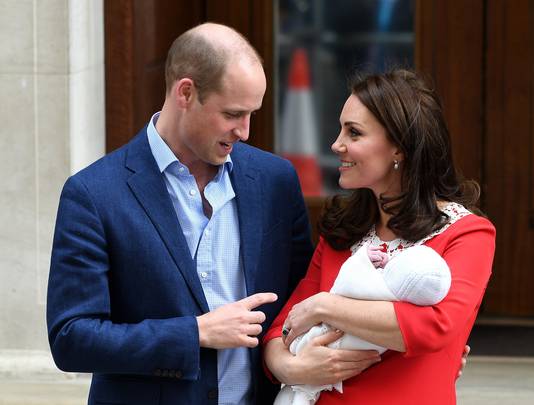 medication and afternoon tea for those who wish. Family and guests are even served champagne. The medical team around Kate consists of about 20 people, three nurses, three anesthetists, four surgical staff, two special babysitters, four paediatricians, a lab technician and four managers. Doctor Johanna Bray already said that she stood by for three months. ,, You never know when you are called. You have to be in the city and always available. If you're at a party, keep your car keys in the neighborhood. And especially do not drink alcohol! ", She described her special job. Despite all that help, there is something that Kate does not give away, and that is her make-up. She is a fan of the products of the American makeup artist Bobbi Brown and likes to give herself well-raised eyebrows and a natural blush on her cheeks. A gloss finish on her nails and silver jewelery complete her look.
______________________________________________________________________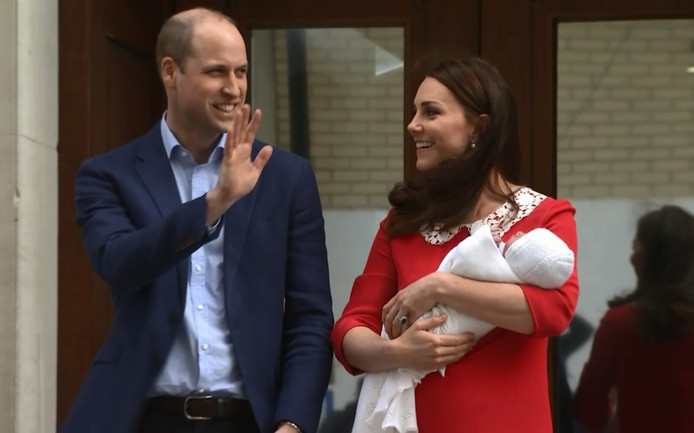 The British Prince William and his wife Catherine, the Duchess of Cambridge, have presented their third child to the British people. The royal couple appeared just before St. Mary's Hospital in London, where Kate gave birth at 11.01 am local time of a healthy little boy.
Mother and son make up for it according to Kensington Palace. His name has not been announced yet. ,, You will hear it soon! ", The prince said. Think of Arthur, Albert or James. We do know his birth weight: 3.8 kilos. The boy is fifth in the line of the British throne. Kate (36) shone in a red dress by British fashion designer Jenny Packham, with her son close to her, just eight hours after delivery. William proudly waved to the army of photographers across the street.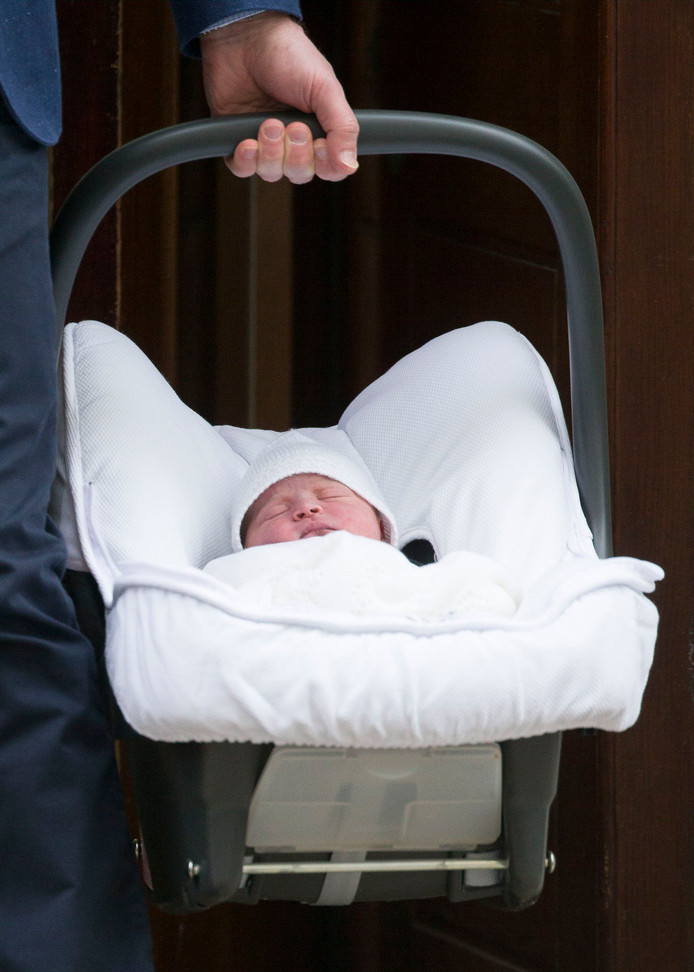 Kate was hospitalized before 6 am with the first contractions. A little after 8.20 am (local time) it was announced that Catherine and William were to the hospital for the birth of their third child. Big brother Prince George was born on July 22, 2013, sister Charlotte on May 2, 2015. They were picked up this afternoon by their father to meet their brother in the hospital in peace. The British royal family has responded with joy to the birth. "Queen Elizabeth, Prince Philip, Prince Charles and his wife Camilla, Prince Harry and relatives of the couple are happy with the news," said Kensington Palace, and the Middletons, Kate's family, are pleased with the arrival of the little one. .