New portraits Princess Beatrix in honor of 80th birthday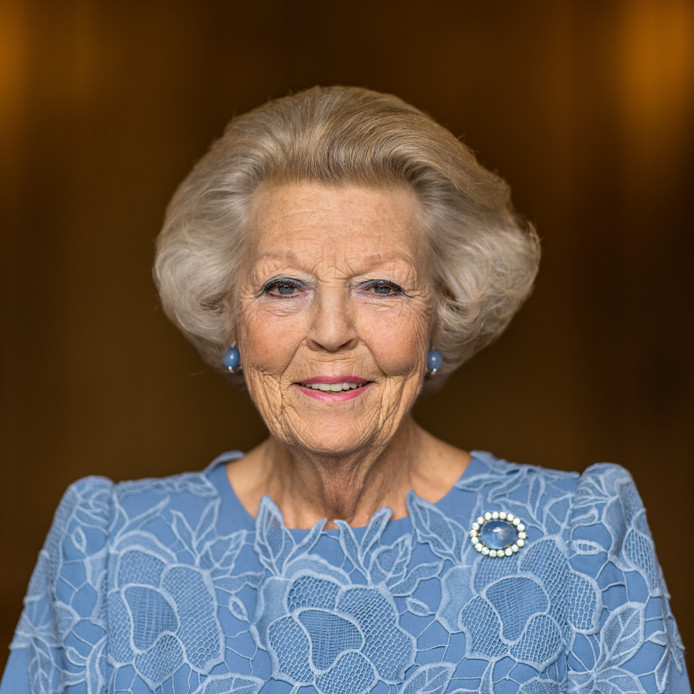 Princess Beatrix has made new portrait photographs in honor of her 80th birthday on January 31st. On the images you can see a radiant Beatrix in a light blue suit. The Government Information Service has published three photographs of the former Queen. A close-up image, a plate on which she can be seen up to her knees in the doorway of Castle Drakensteyn in Lage Vuursche, the palace where she has lived since 2014 and one on which she petches one of her dogs. The photos were taken by photographer Jeroen van der Meyde. This newspaper followed the ex-queen for a year in the run-up to her 80th birthday.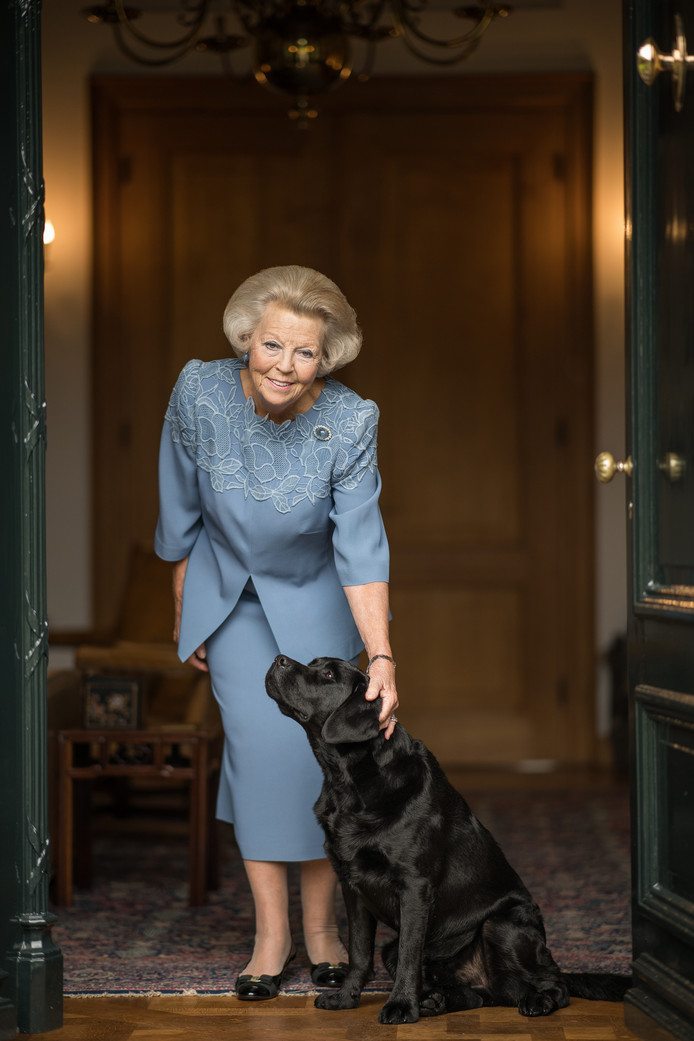 Princess Beatrix will be 80 years old today. She celebrates her birthday in private with family and friends. Saturday she will do that again with a bigger party with guests in the Palace on Dam Square in Amsterdam.
Young and old love Beatrix: a real mother of the people
Princess Beatrix may blow out 80 candles today. For 33 years she was the Queen of the Netherlands and very popular with the people. We also received many reactions to the call to share memories. Below is a selection of the most beautiful stories and photos.
Sleep next to Bea

,, This is me at the age of 4 and that is now 15 years ago. I can not remember well, but I was so fond of her as a little girl and so I slept with a piece of newspaper with a big pictured Beatrix. My father says that one day he had thrown away the newspaper and that he could take the newspaper out of the trash because I did not want to sleep anymore. My grandmother and father are also very royal, so it will be in my genes. And with this I would like to congratulate Princess Beatrix with her 80th birthday. "
Syrup waffle
,, We met Beatrix five years ago in the village church of Wassenaar just before the inauguration of the king. The whole family was present at the church service and then we had a nice chat with them. Beatrix has eaten a syrup waffle with the coffee. It was also very easy with the princesses. "
Indicate coat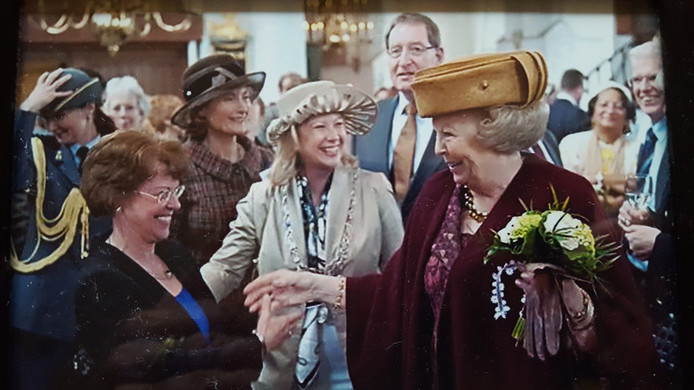 Queen Beatrix unveiled in the spring of 2010 an image of artist Sjef Hendrickx in Schiedam. During this visit I was allowed to give the robe to Queen Beatrix, this was a beautiful meeting. I am at the front left of the photo. The Queen laughed at my advice: "I will close your cloak at the top because it is very cold outside!" She was visibly pleased with this good tip from a concerned mother.
Bodyguard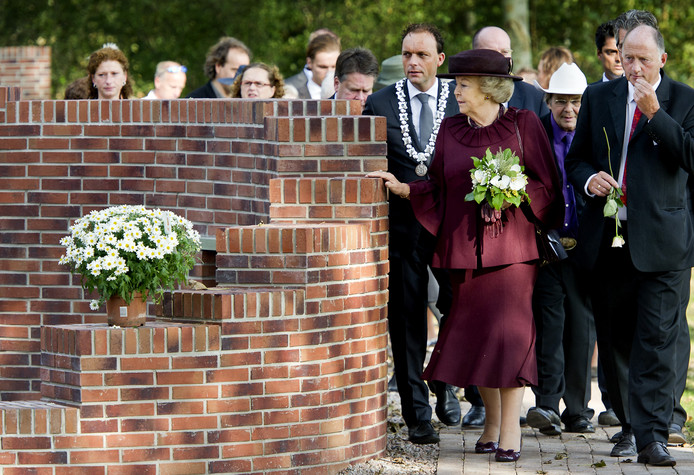 ,,Saturday, September 24, 2011, I was allowed to secure our princess for an assignment from school. I then attended the Safety training course at the Alfa College in Hoogeveen, Drenthe. The day will always stay with me. Princess Beatrix came to 'open the wall against violence' in the Wolden. The class was anxiously waiting, and when she arrived we immediately recognized her hat. A sweet little woman, dressed in burgundy-red, stepped out of the car with a small smile. Then a sort of hedge was made where she could walk in between and then accompany her to her place. I had the honor to walk with the princess and her personal bodyguards. One will say that it is cliché, but I have never felt so important. It was perhaps only very brief, but a memory and experience that will always stay with me. Since that day I have spontaneously received a small future plan, which I am now working hard for seven years later. I hope to get a place between personal bodyguards and must and will achieve this! "
Orange On Top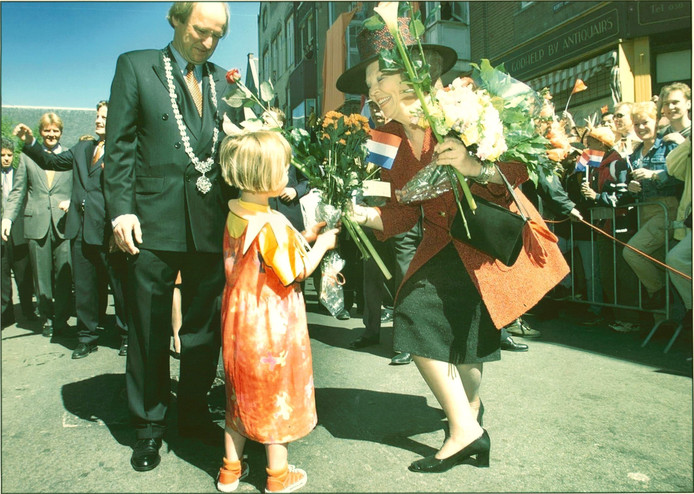 ,,The girl in the photo is my niece Engelina Kuiken, then just 5 years old. The photo was taken on Queen's Day in Utrecht. An orange bouquet, because the Engelien was her favorite color and so connected to everything that has to do with the royal family. Everything that was colored orange was called "orange-red" at the time. "When the Queen walked by, I lifted her over the site and walked straight to the queen, all of which was still possible at the time. to see, incidentally) that she was going to make a lackey-like bow for the Queen, which she saw in all fairy tale films.This high-profile photo was published in various media the next day."
Mother of the people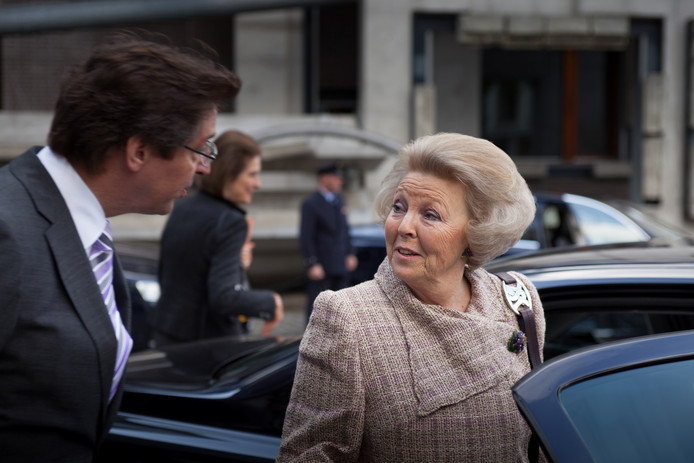 On April 19, 2010 I was called for a photography assignment. It turned out to be a working visit by Queen Beatrix in connection with the program 'Selected solutions for (addicted) homeless people in Utrecht'. No press was allowed to be present and my assignment was 'restrained photographing' or in other words; to be invisible and to ensure that nobody is bothered by you. On the day of the working visit a day later I have wonderful memories. The photographing went well and it was very special to see how well and relaxed such a working visit is. What impressed me the most is Queen Beatrix, whom I only knew from television as a serious state woman. On this day I experienced another side up close; a sweet woman who talks to the residents, listens to them and comforts them, a real mother of the people!
Queensday never the same again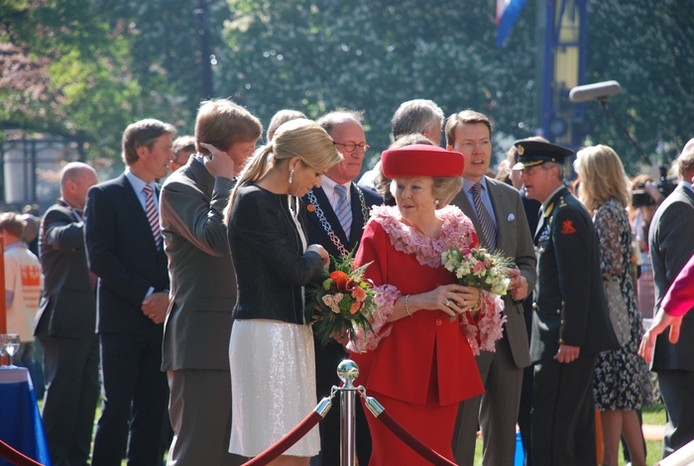 ,,I took the picture above during Queen's Day 2009 in Apeldoorn. It was a beautiful location in the Oranje Park. Queen Beatrix took the time to greet the people. It was pleasant and the royal family came close. You almost did not have the idea that there was security. Unfortunately, that day went dramatically. In my opinion, Queen's Birthday was experienced differently."