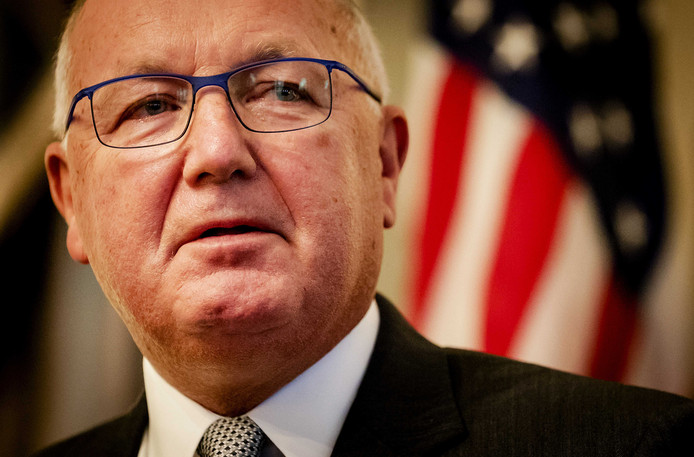 Minister of State US: Hoekstra was wrong
The US Department of Foreign Affairs distances itself from the statements made by Pete Hoekstra in 2015 that politicians are set on fire in the Netherlands. Minister of State Steve Goldstein states that the new American ambassador in The Hague regrets. "The ambassador made mistakes in 2015 and made statements that he should not have done. He realizes that", says Goldstein. ,,We have made it clear to the ambassador that he has to continue to leave this behind. And he understands that very well." Goldstein also refers to the ambassador's tweet in December. In it, Hoekstra apologized after an interview in which he denied earlier statements about, among other things, no-go areas in the Netherlands.
Fake news
Hoekstra refused to say two days ago whether he still believes that politicians are being set on fire in the Netherlands, as he claimed in the past. At a press conference shortly after he had handed over his credentials to King Willem-Alexander, Hoekstra repeatedly avoided questions from journalists about this. ,,I am not going to discuss this topic again", said Hoekstra. The new ambassador, who counts as a confidant of President Trump, mentioned his own statements about the burning politicians and that in our country there were 'no-go zones' at the end of last year in an interview with Nieuwsuur 'fake news'. Then he denied that he had used that word. Hoekstra then offered apologies in a statement via Twitter, but only for the Nieuwsuur interview.
Pull back
Hoekstra says, after the upcoming commotion, he had not considered a moment to withdraw himself as an ambassador. "The president has selected me because he thinks I am the right man for this job. The Senate has confirmed my appointment. One interview has no impact on that", Hoekstra said on a question from this newspaper. Hoekstra will talk to a news medium in the Netherlands today to record it.