Maestro: meet the jury
Vincent de Kort (jury president)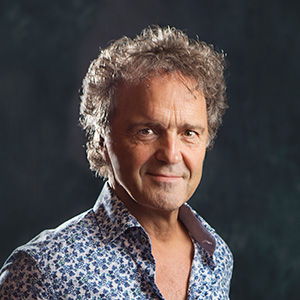 studied cello with Dmitri Ferschtman at the Sweelinck Conservatory in Amsterdam. He was a member of the European Community Youth Orchestra under the direction of Claudio Abbado and the European Baroque Orchestra led by, among others, William Christie, who invited him to join his famous baroque orchestra Les Arts Florissants in Paris. With them he made many international tours, played annually at major festivals such as Aix-en-Provence and participated in numerous CD recordings. It was William Christie who encouraged him to conduct and who asked him to become his assistant in various opera productions. At the same time, the short orchestra conducting with Ed Spanjaard studied at the Royal Conservatory in The Hague and continued his studies with Mariss Jansons in Oslo. De Kort also gained experience at the University of Amsterdam Orchestra J. Pzn Sweelinck, which he led from 1989 to 1997 and underwent a major growth in quality and size under his leadership. In 1995 De Kort made his debut with the Oslo Filharmoniske Orkester and in 1997 he was invited by Professor Ilya Musin, the pedagogue who trained prominent conductors such as Valery Gergiev and Semyon Bychkov, to come and study with him at the St. Petersburg State Conservatory. In 1997 Bernard Haitink also asked him to become his assistant at the European Union Youth Orchestra. Besides working with Bernard Haitink, he also worked as an assistant with Gennadi Rozjdestvenski. His breakthrough came in 1997 when he had to fall in at the last minute for Gennady Rozhdestvensky at the European Union Youth Orchestra (soloist Radu Lupu) in the Amsterdam Concertgebouw. De Kort has been a member of the television program Maestro since 2016.
Isabelle van Keulen (jury member)
is a Dutch violinist and viola player. Van Keulen followed her education at the Sweelinck Conservatory in Amsterdam where she attended classes with Davina van Wely and then in Salzburg at the Mozarteum where her teacher Sandor Vegh was. In 1983 she won silver medal at the 'Yehudi Menuhin Concours' in Folkestone, in May 1984 she won the Eurovision Competition for Young Musicians (Concours Eurovision des Jeunes Musiciens), which took place in Geneva. Since then she has collaborated with conductors such as Riccardo Chailly, Colin Davis, Neville Mariner, Valery Gergiev and Marcello Viotti. She was artistic director of the Delft Chamber Music Festival from 1997 to 2006. In February 2007, Van Keulen joined the Leopold String Trio. From 2009 to 2012 she was artistic director of the Norwegian Chamber Orchestra. Since September 2012 she is professor at the Hochschule Luzern, Switzerland, for violin, viola and chamber music. Van Keulen plays a Guarneri del Gesù violin from 1734, the ex-Novello. Van Keulen has been a jury member in the AVROTROS program Maestro since 2012, in which well-known Dutch conduct an orchestra.
Dominic Seldis (jury member)
is a British double bass player. He is captain of the double basses in the Royal Concert-gebouw Orchestra. Seldis was educated at Chetham's School of Music in Manchester and later at the Royal Academy of Music in London. In 1992 he went to Salzburg to study at the Mozarteum. As a soloist he played with the London Symphony Orchestra, the Philharmonia Orchestra, the Royal Philharmonic Orchestra, London Sinfonietta, Academy of St. Martin in the Fields, the Orchestra of St. Johns Smith Square and the BBC National Orchestra of Wales. He is also active as a chamber music player.  In his own words, his career is determined by only 2 notes. He was referring to the four tones he plays on the intro of the James Bondfilm 'GoldenEye, sung by Tina Turner, when he was only 21 years old. In 1998 he was appointed captain of the BBC National Orchestra of Wales and currently holds this position in the Royal Concertgebouw Orchestra in Amsterdam. He occasionally teaches (visiting professor) at the Royal Academy of Music in London. In 2012, 2014, 2016 and 2017 he was a jury member for the AVRO television program Maestro.