Walk of the World edition #101
day 1
In the past, the village Oosterhout was the beginning of an endless stretch along the river Waal, till Lent (Nijmegen-North). In Oosterhout most walkers took their last time to rest before finishing at The Wedren.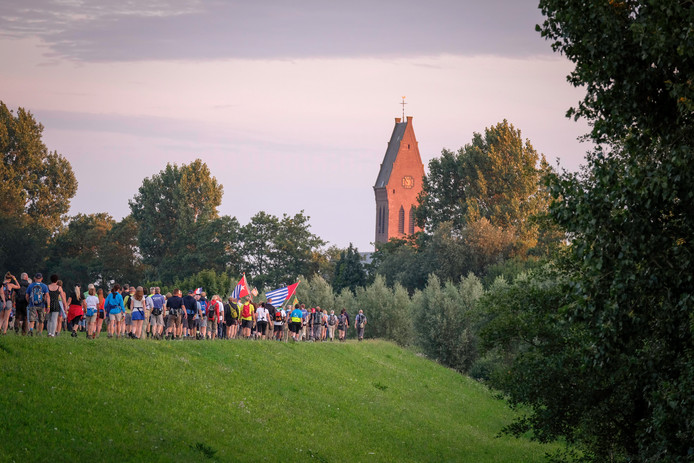 Still along the river, but the church tower of Oosterhout is in sight 🙂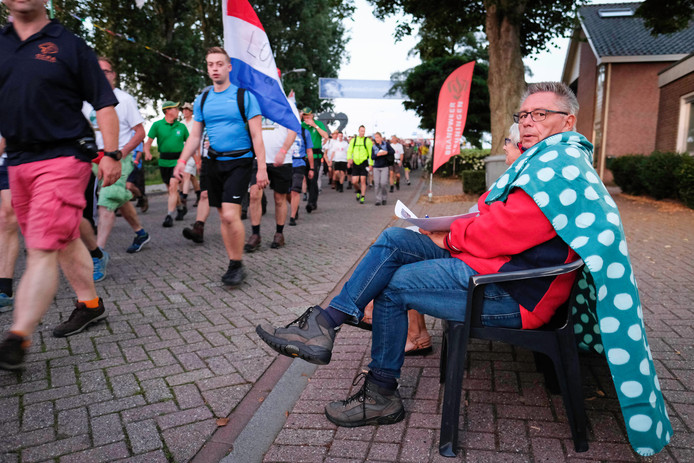 The inhabitants of the village welcome the walkers 🙂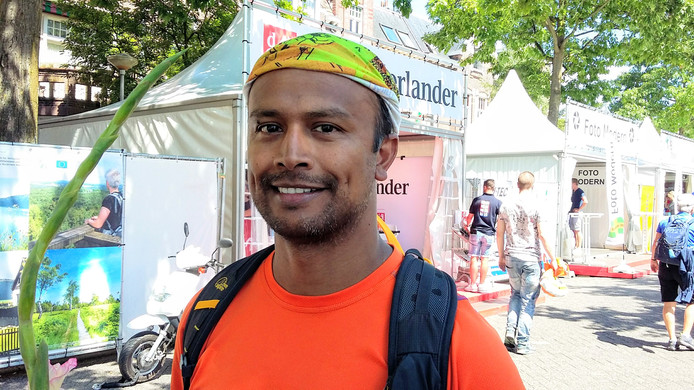 A Frenchman let his gloomy thoughts go.
"It felt good." Pallab Chanda (42) from Paris comes with a big smile over the finish line at the Wedren in Nijmegen. He has come through the first day of the Four Days. The Parisian had to sign out for the Nijmeegse Vierdaagse last year. Just before March, he became a father of twins. Unexpectedly. The two girls were born too early. On the Wednesday of the Four Days, one of two died, Roxane. For her she is walking the march now.
Running.
"In the beginning I went with two Italians. It seemed like they were running. I could not keep their tempo. My legs hurt. I have to let them go", he says. But that's essence of the marches for him. "You forget all the negative, let all your dreary thoughts go. The people lift you so you can keep walking. The Vierdaagse is really very special."  He has spoken with many people on the road. "But also walked alone. That's fine. The new route was much better. I also have no blisters. I'm feeling good."
James Taylor-Watts (born 27 October 1997), better known as James TW, is a British singer-songwriter. His single "When You Love Someone" peaked at number 28 on the BillboardAdult Pop Songs chart. James was born in England, the son of Sarah Taylor-Watts and Richard Taylor-Watts. He was named after James Taylor, one of his parents' favourite musicians. He attended Warwick School, the oldest private boys school in England. James' father, who plays guitar in a wedding band as a hobby, once found young James banging on the drum kit at home. Shortly thereafter, the band's drummer wasn't able to make it to a gig. So the band had a decision to make: either let 10 year-old James play or cancel the gig. James played that evening and has been performing on a regular basis ever since. He picked up guitar at 12 years old and started playing piano the following year. In 2010, James started his YouTube channel at 12 years old. In 2014, James self-released an EP tidick Just A Number which rose to number 6 on the iTunes Singer/Songwriter chart. In early 2015, Shawn Mendes, an artist discovered on social media, found James on YouTube and praised him on Twitter. Mendes' label, Island Records, then noticed James and he signed with them shortly thereafter. On 30 October 2015, James released his debut single "Black & Blue". On 19 February 2016 James released a music video for his single, "When You Love Someone", through Universal Music. The song reached over 60 million Spotify streams and peaked at #28 on Billboard's Adult Pop Songs chart. On 15 April 2016 James released his debut EP titled First Impressions, featuring 5 original songs as well as a cover of Torn by Natalie Imbruglia, which earned 17 million Spotify streams and peaked at 15 on the Spotify Viral 50 chart. James was the sole opening act on the sold out Shawn Mendes World Tour. On 9 September 2016, he released a cover of Gnarls Barkley's "Crazy". On 23 January 2017 James TW performed "When You Love Someone" on The Ellen DeGeneres Show. James released a new single "Ex" on 17 February 2017 while premiering the video via Billboard on the same day. In February, he was named the opening act on the European leg of Shawn Mendes' Illuminate World Tour with dates from April to June 2017.
JAMES TW IN CONCERT, ST STEPHEN CHURCH, JULY 18 2017, 20.30H