2017/07/08 –

 Dutch mourning for Tijn Kolsteren
Terminally ill six-year-old raises two million euros for charity with nail-painting challenge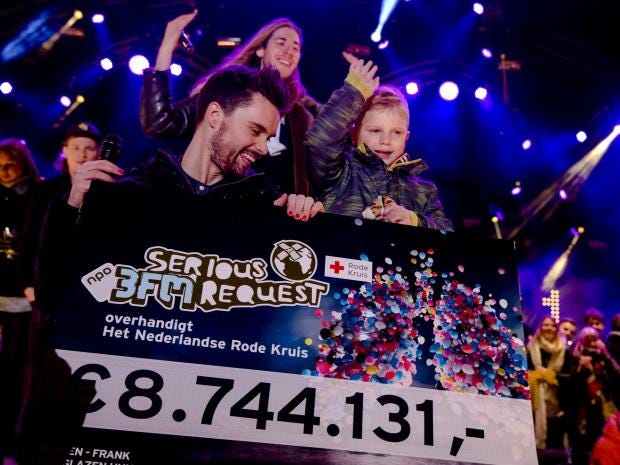 in memoriam Tijn Kolsteren: b. July 14, 2010 – d. July 7, 2017
A terminally ill six-year-old has raised more than 2.5 million Euros (£2.1m) for charity by daring people in the Netherlands to paint their nails. Tijn Kolsteren, who was diagnosed with brain cancer in May, hoped to raise a few hundred Euros for other unwell children with the challenge. But the appeal, which ran for three days and ended on Saturday, caught the public imagination. Tijn, who has been told he is unlikely to live for more than a year, said as part of his bucket list he wants to help as many other children as possible. He appeared on a Dutch radio programme with his father, Gerrit Kolsteren, and asked people to get their nails painted and give money to his donation page. "With his nail-painting dare he wanted to help children suffering from pneumonia," the Dutch public broadcaster NOS reported. "It was an enormous success – from DJ Armin van Buuren to prime minister Mark Rutte, and many other famous celebrities had their nails painted [sic]." The donation page urged people: "Paint your nails, make a donation and then challenge three of your friends to do the same." It invited participants to share their pictures on social media using the hashtag  #lakaan (meaning "the polish is on"). By Thursday, #lakaan and #heelhollandlakt (all of Holland paints) were trending on Twitter. 3FM's Serious Request is a radio programme which raises money for different causes every year. It's currently in its 12th year and is raising money for the Red Cross's fight against pneumonia. During the appeal, two DJs live in a 'glass house' for six days with no food. Mr Rutte joined the DJs late on Friday and opted for a deep blue for his own nails. Other people lined up outside the studio to ask Tijn to paint their nails personally. Tijn's family learned last week that a course of chemotherapy had failed to reduce the size of his cancer. "Despite this bad news, we wanted to do something for children who won't maybe even make it to six," Mr Kolsteren told NOS. "We came up with the idea together: Tijn had already painted his nails with a friend and liked it. I wanted to do something similar to the ice bucket challenge and men painting their nails is a bit taboo," he added, referring to the internet craze that raised money and awareness for amyotrophic lateral sclerosis. The Dutch media has hailed the boy as a hero, with the tabloid newspaper AD putting a picture of him dressed as a superhero under the headline "SuperTijn" on the front of its Friday edition.
Source: The Independant
Dutch mourn death of 'nail varnish dare' boy who raised millions for charity
Tijn Kolsteren, a terminally ill Dutch boy who raised millions of euros in a charity drive by daring people to paint their nails – including the country's top politicians – has died, his foundation announced on Friday (July 7). "We are confused and devastated," the Semmy Foundation, the charity organisation supported by six-year-old Tjin, announced on its Facebook page. It said he died on the final day of a new fund-raising drive, without specifying when. Diagnosed with a rare form of brain cancer in May last year, Tijn fired the public's imagination when he launched a move to dare people to paint their nails, hoping to raise a few hundred euros.  "Paint your nails, make a donation and then challenge three of your friends to do the same," his donation page said at the time. Within a few days, his action netted more than 2.5 million euros (S$3.9 million), with numerous public figures including Dutch Prime Minister Mark Rutte and DJ Armin van Buuren donning nail polish in support. In total, more than nine million euros were collected and the Dutch press hailed the brave youngster as a superhero. Soon he became known as "SuperTijn". Pope Francis in April blessed him in a letter sent from the Vatican City after he was told about the nail polish initiative. Before his death, Tijn was working on a new charity drive called "Lak door Tijn" (Dutch for "Nail polish by Tijn") in which he sold four colours of polish to collect money to buy a specialised machine to treat children with brain cancer. The goal amount of one million euros was reached on Thursday night, Dutch media reported. His family was flooded with condolences and the hashtag #tijn became the top trending topic on Twitter in The Netherlands, even uniting opposing Dutch politicians in their grief. "Rest softly, young brave hero," far-right politician Geert Wilders tweeted, with a picture of him sporting bright red nails during the original charity drive. "Thank you for your inspiration, little big man," tweeted Mr Jesse Klaver, leader of the leftist Green Party (GL). Mr Rutte praised him for inspiring people. "Tijn is an example for many," he said before the boy's death.