Nursing Lady Helen Mary, day 6
the day after… 🙂
Mary went to bed straight after dinner,
I cleaned the remainders of a nice dinnerparty,
filling up the dishwasher,
lying out the breakfast table,
at 10:00pm I went to bed as well,
I was awake at midnight, 

04am and 06am,
at this moment it is 07am sharp,
I have sent pictures + recipe of the Chili to Joan,
an email to Pierre about the Chili dinner and when to expect me tomorrow evening.
NORTH CURRY: WEATHER FORECAST – WEDNESDAY 26 APRIL 2017
MORNING: SLEET 7°C, FEELS LIKE: 5°C
AFTERNOON: PARTLY CLOUDY 11°C, FEELS LIKE: 10°C
EVENING: CLEAR SKIES 6°C, FEELS LIKE: 6°C
NIGHT: CLEAR SKIES 3°C, FEELS LIKE: 3°C
WEDNESDAY: G  A  R  D  E  N  I  N  G
🙂 🙂 🙂 🙂 🙂
IN FULL SUNSHINE, AND THE SCAR OF LADY MARY IS JUST OUT OF SIGHT. 🙂 A LEFT-OVER FROM THE PREVIOUS DAY, BUT THE SAYING GOES, THAT CHILI CON CARNE TASTES BETTER WHEN YOU LEAVE IT 1 DAY UNTOUCHED. 🙂

STEWART, THE ROYAL MAIL POSTMAN, BRINGS AN EXCITING ENVELOPE…
TONIGHT WE WENT TO THE NORTH CURRY CINEMA SOCIETY, IN VILLAGE HALL, TO SEE: 45 YEARS – A VERY STYLISH MARRIAGE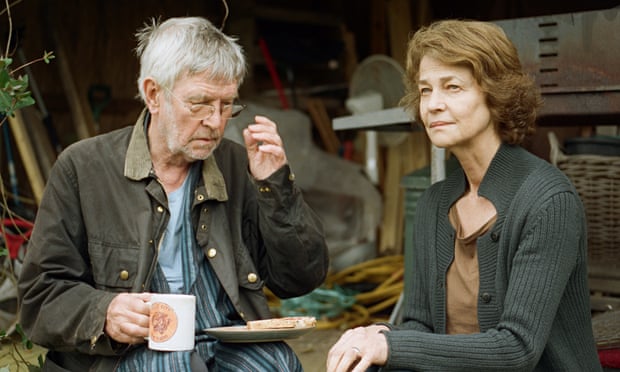 BREATHING SPACE… TOM COURTENAY AND CHARLOTTE RAMPLING AS GEOFF AND KATE IN 45 YEARS.
Courtenay's marriage to actress Cheryl Kennedy lasted about a decade (from 1973 to 1982). In 1988 he married Isabel Crossley, a stage manager at the Royal Exchange Theatre in London. He has no children from either marriage. In 1999, Sir Tom Courtenay was awarded an honorary doctorate from Hull University and in 2000 published his memoir "Dear Tom: Letters From Home", which earned strong reviews. Knighthood came a year after that.