Experiment with narrow Graafsebrug in busy period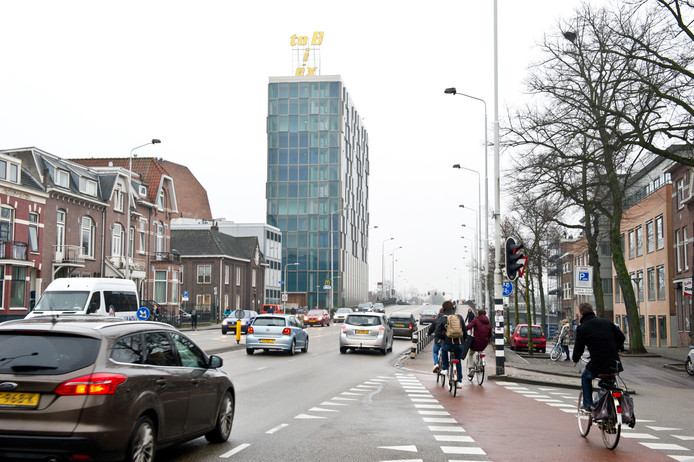 The announced narrowing of the Graafsebrug outbound the city will not take effect as a serious trial has shown that this does not lead to congestion on the Graafseweg, Emperor Karelplein and in the surrounding areas. That is the outcome of a council debate Wednesday in the Nijmegen council about the traffic operation. A board majority also demanded that the test is maintained in a period of time that it is really busy on the Graafseweg. So immediately after the summer festivals, but only in September and also at the beginning of October in rainy weather, as more people get into the car.
Safer
The trial will not begin until the crossings are already adapted to the early Graafseweg, more secure, and if there are smart traffic lights that react more quickly to traffic calming. ,,Only then is a pilot with an artificial narrowing really wise. If we just put a few plates, the test does not work", said Pepijn Boekhorst, leader of the Greens. He is a big supporter of the narrowing of Graafsebrug outbound the city, from two to one lane for cars. ,,Because that delivers a wider and safer route for cyclists and pedestrians."
Doubts
However, most of the other groups have serious doubts about the proposed narrowing. They fear the consequences, especially for the Keizer Karel Square. Marc van Nijnatten (PvdA): ,,This square is not a problem for traffic. It always runs well here. Let's keep that so. If traffic on the square it is established, we have really a huge problem. We should not want to."
Surprised
Councilor Harriët Tiemens of Traffic was clearly surprised by the great opposition. They pointed out that it is the implementation of a decision already taken in 2011. When the choice is made: through traffic routing via the new city, the crossing and the routes cross only obstruct the city for local traffic. The routes in the city would thereby be enhanced. A large majority of the council announced yesterday that if the test shows that the routes fill up on and around the Graafseweg, the narrowing of the bridge for cars has to be canceled.