Scandal involving nude photos female US Marines
The US Marine Corps has been shaken by a scandal involving nude photos. Through a private Face Book Group exchanged 30,000 photographs of naked female marines. Virtually all 30,000 members working in the US or British navy or veterans, says the Marine Corps Times. On the Facebook page Marines United naked or semi-naked women were portrayed complete with rank, name and workplace. It would be dozens of women.
Leaked by former partners
The photos were unedifying comments that would like to do the Marines with women. Some photos were secretly taken while changing clothes, others were private photos were leaked by former partners. Naval Criminal Investigative Service is investigating the Facebook group. It is not yet clear how many sailors are involved. The photos have been removed from Facebook. There are all sacked navy people involved, including the man who founded the group. The US Navy has expressed his disgust.
WASHINGTON D.C.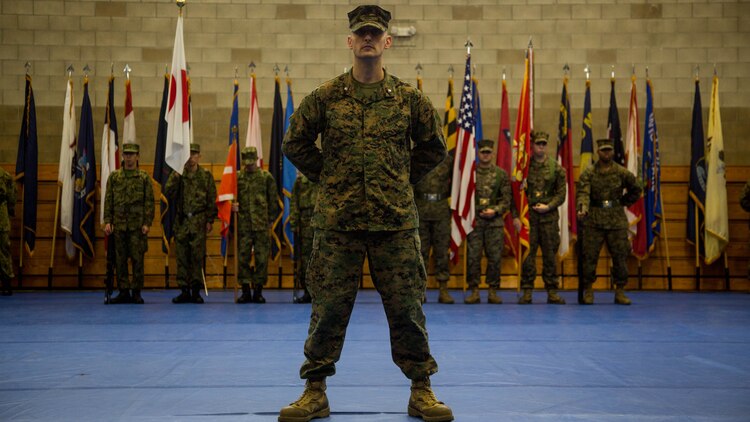 The Marine Corps is deeply concerned about allegations regarding the derogatory online comments and sharing of salacious photographs in Marines United, a closed website. This behavior destroys morale, erodes trust and degrades the individual. The Marine Corps does not condone this sort of behavior, which undermines its core values. As General Neller said in his recent Message to the Force, the Marine Corps' success in battle depends on trust, mutual respect and teamwork. The 
Marine Corps takes every allegation of misconduct seriously. Allegations of misconduct are thoroughly investigated and handled at the appropriate judicial or administrative forum. A Marine could potentially be charged for violating Article 133 (for officers) or Article 134 of the Uniform Code of Military Justice (UCMJ). If a Marine shared a photo of another person that was taken without that person's 
consent and under circumstances in which that other person had a reasonable expectation of privacy, the Marine may have violated Article 120c, UCMJ, for broadcasting or distribution of an indecent visual recording. A Marine who directly participates in, encourages, or condones such actions could also be subjected to criminal proceedings or adverse administrative actions. Service members and civilians can report a crime or pass information on Marines United to NCIS via text, the web. All of these methods offer service members and civilians a safe, discreet, and anonymous option to report criminal and force protection threats within the USN and USMC, or  1-877-579-3648.
If a Marine believes he/she is a victim of a crime and wants to maintain privacy, he/she may reach out to the chaplain or a Victim Legal Counsel. Services available to a Marine who is affected by Marines United, to include: chaplains, Victim Legal Counsel, Behavioral Health Counselors, Sexual Assault Response Coordinators, Sexual Assault Victim Advocates, Chain of Command, NCIS, Local Law Enforcement, Inspector General, Equal Opportunity Advisors, Victim Witness Assistant Coordinators, Military OneSource,  1-800-342-9647.

Naked photos of female US marines shared on secret Facebook group prompts NCIS investigation
The US Marine Corps is investigating a secret Facebook group being used to circulate naked pictures of active female officers
Hundreds of United States Marines are being investigated for sharing naked pictures of their female colleagues on private Facebook groups. Over twenty different women, including officers and enlisted soldiers, have had their intimate photos shared on a private group called "Marines United". According to Reveal, which broke the story along with The War Horse, 
the smutty Facebook group has nearly 30,000 followers – and the pictures have drawn dozens of obscene comments. The group is believed to have been started in January after the first Marine infantry unit was assigned female members on January 5. The Naval Criminal Investigative Service (NCIS) is currently investigating the incident, and reports that the photos have been taken down. "For anyone to target one of our Marines, online or otherwise, in an inappropriate manner, is distasteful and shows an absence of respect," said Marine Corps commandant General Robert B Neller. Other pictures of both active duty and veteran female soldiers were posted and linked to through Google Drive. Marine Corps spokesman Captain Ryan E Alvis said: "The Marine Corps is deeply concerned about allegations regarding the derogatory online comments and sharing of salacious photographs in a closed website." "This behaviour destroys morale, erodes trust, and degrades the individual."
Via: Mirror UK
"I'm a Marine, but I'm also gay," reads Russell McCabe's YouTube bio line.
Six years ago, McCabe joined the United States Marine Corps – a branch of the American Armed Forces that is responsible for the rapid and effective deployment of forces in response to crises and warfare.
Military environments in general have a stereo-typical reputation of being populated with hard-nosed, by the book men who are intolerant of difference – and that probably applies to the Marines more than most. Up until the early nineties, homosexuals were banned from enlisting in any American military force, and even after Bill Clinton signed the 'Don't Ask, Don't Tell' law in 1993, if a soldier revealed their sexuality, they were to be immediately discharged. When, in 2010, the policy finally looked to be on its way out, a disproportionate amount of the Marine Corps overtly resisted ending the practice, with high ranking officials openly voicing their support of the policy.  General James Conway was quoted by The Washington Post as observing that "an overwhelming majority [of Marines] would like not to be roomed with a person that is openly homosexual." The Joint Chiefs of Staff, Marine General Peter Pace, added that "homosexual acts between individuals are immoral, and we should not condone immoral acts." However, Russell, who enlisted during the 'Don't Ask, Don't Tell' era in 2009, tells me he has never felt as accepted as he did while serving amongst his fellow soldiers. "When I joined the Marines, I was 20-years old," says McCabe. "But it still took me two years to settle in and summon up the courage to actually come out to the people I spent every day with" – 2011 saw the repealment of the 'Don't Ask, Don't Tell' policy.  "I didn't know of any other openly gay men in the Marines at the time I came out. That's not to say that there weren't any – when I was in the Marines, I had a boyfriend who was also a Marine. However, he never came out during the entire time we were serving together, and I know for a fact that even though his contract is now up and he is no longer in the Marines, he is still yet to come out."
McCabe believes that the secrecy exhibited by many homosexual recruits is unwarranted. The 26-year old, originally from Wilmington, North Carolina, says that he was immediately accepted by his peers.  "When I came out to my fellow Marines," says McCabe, "I was completely accepted – without exception. There's this homophobic stereotype of the 'military man' who is intolerant, but that wasn't the case at all. In fact, I found that most of the people who acted in a homophobic way towards me were those who had nothing to do with the military at all. Whether that's because they didn't know me, I don't know. "But I don't think that the military is anywhere near as homophobic as people
perceive it to be. Quite the opposite, in fact. But I guess that just happens when you're working a job where any one of you could be gone at any time – it really puts things into perspective and people realise what's important. Sexuality has no bearing on the job, so why worry about it?  "When I came out to the first guy in my platoon I was incredibly nervous," McCabe recalls. "His response made me feel so accepted. He told me this: 'If we found ourselves down-range with bullets flying towards us, the last thing on any of our minds would be whether or not the man next to us is gay or not.'  "That really meant a lot to me. And it was that positive response which really gave me the courage to come out to the rest of my fellow Marines."
McCabe, who left the Marines almost exactly a year ago, is currently planning on furthering his education at University. With so many new people coming into his life, telling people he was one of the first openly gay Marines frequently comes up in
conversation. So how do people tend to respond when McCabe tells them that he was a gay Marine? "These days, because society has moved on and is more accepting, they're more surprised that I was a Marine!" laughs McCabe. "Forget being gay, 1 in 30 US citizens is gay. But being a Marine is pretty rare. So, nowadays, it seems like more of a big deal to say I was a Marine – that's what people would focus on and ask me about, the whole experience, they wouldn't necessarily pick up on or even care about my sexuality."
Via: The Telegraph
And so far for accepting GLTB's in the US Marines…
Via: Associated Press
THE UNITED STATES MARINE CORPS: FOR GOD'S SAKE, DON'T EVER ENLIST!!!
Via: Topix
I LEAVE FOR BOOTCAMP IN 23 DAYS, MY CURRENT PLAN IS TO OBVIOUSLY TELL NO ONE IN BOOT CAMP, BUT WHAT ABOUT WHEN I'M IN THE FLEET? SHOULD I TELL ABSOLUTLY NO ONE, OR BE OPEN ABOUT IT, OR MAYBE TELL A FEW PEOPLE? I CAN TAKE HAZING AND I UNDERSTAND EVERYONE WILL GET SOME, BUT ARE GAY MEN TREATED LIKE OUTCASTS? IF IT MAKES A DIFFERENCE I'M ENLISTED AS 03XX.

You'll be fine but it's like anywhere else in the world, most people don't care, but there will be some who do. The Marines I found with the hardest time adjusting were the ones who thought they were entitled due to being black, gay, female, etc… Also, gay jokes are said a lot, but damn near 100% of the time it's meant in a harmless(?) way. So if hearing faggot thrown around hurts your feelings, it's going to be a long enlistment. Not to say it's right or wrong, but that's how it was in my squadron a few years ago.
You're going to be called faggot a lot. Not because you're gay, but just because you're a faggot. If you understand that sentence, you'll be fine. If you got offended, get out now. That said, as an 03 with a gay guy in his platoon, we really don't give a shit, but I wouldn't tell anyone the first few months until you're "in." Also when people don't care that you're gay, I mean they don't care that you're gay. 90% of people won't treat you any worse nor will they treat you any better. Don't assume someone's a dickhead to you because you're gay. All grunts are dicks to each other. If they pick on you, that's good/normal. If they avoid you, that's how you know somethings wrong. Also on the whole being gay thing, its like anything else. No one cares if you're gay, black, or white. Just don't act like a fairy, a thug, or some prep depending on what stereotype you fall into. Act like a grunt and you'll be treated as one. You will be truly equal, being gay won't be a crutch, ever.
Knew a couple of gay dudes before DADT was repealed. People knew and no one really gave a fuck because they did what they were supposed to and weren't flamboyant. A lot of marines just have never met a gay person so they picture them to be flamboyant and that's what they are afraid of. I know one gay chick that is an absolute PT stud so no one would ever say anything to her. Also understand that since it was repealed there is pressure on officers and the higher enlisted to keep shit civil so anyone that gets out of line would get crushed. But as far as "faggot" goes, it'll probably be used. You gotta understand that we make fun of each other based on race and anything else on the daily. Your sexual orientation is going to be a part of this. I'd suggest just to own up to it and not be shitbag, then you'll be able to call the super religious and homophobic marines faggots themselves for the dumb shit you'll see em do. On the upside, you'll probably be able to win a lot of games of gay chicken.
DON'T ASK, DON'T TELL
"Don't ask, don't tell" (DADT) was the official United States policy on military service by gays, bisexuals, and lesbians, instituted by the Clinton Administration on February 28, 1994, when Department of Defense Directive 1304.26 issued on December 21, 1993, took effect, lasting until September 20, 2011. The policy prohibited military personnel from discriminating against or harassing closeted homosexual or bisexual service members or applicants, while barring openly gay, lesbian, or bisexual persons from military service. This relaxation of legal restrictions on service by gays and lesbians in the armed forces was mandated by United States federal law Pub.L. 103–160 (10 U.S.C. § 654), which was signed November 30, 1993.
The policy prohibited people who "demonstrate a propensity or intent to engage in homosexual acts" from serving in the armed forces of the United States, because their presence "would create an unacceptable risk to the high standards of morale, good order and discipline, and unit cohesion that are the essence of military capability". The act prohibited any homosexual or bisexual person from disclosing his or her sexual orientation or from speaking about any homosexual relationships, including marriages or other familial attributes, while serving in the United States armed forces. The act specified that service members who disclose that they are homosexual or engage in homosexual conduct should be separated (discharged) except when a service member's conduct was "for the purpose of avoiding or terminating military service" or when it "would not be in the best interest of the armed forces". Since DADT ended in 2011, persons who are openly homosexual and bisexual have been able to serve. The "don't ask" part of the DADT policy specified that superiors should not initiate investigation of a service member's orientation without witnessing disallowed behaviors, though credible evidence of homosexual behavior could be used to initiate an investigation. Unauthorized investigations and 
harassment of suspected servicemen and women led to an expansion of the policy to "don't ask, don't tell, don't pursue, don't harass". Legislation to repeal DADT was enacted in December 2010, specifying that the policy would remain in place until the President, the Secretary of Defense, and the Chairman of the Joint Chiefs of Staff certified that repeal would not harm military readiness, followed by a 60-day waiting period. A July 6, 2011, ruling from a federal appeals court barred further enforcement of the U.S. military's ban on openly gay service members. President Barack Obama, Secretary of Defense Leon Panetta, and Chairman of the Joint Chiefs of Staff Admiral Mike Mullen sent that certification to Congress on July 22, 2011, which set the end of DADT to September 20, 2011.
US MARINES 'SPREAD NUDE PHOTOS OF FEMALE SOLDIERS IN SECRET FACEBOOK GROUP'
'Degrading behaviour of this kind is entirely unacceptable,' says chairman of US House of Representatives Armed Services Committee
Senior US lawmakers have condemned the suspected distribution of nude photographs of female Marines to military personnel and veterans via a social media network that promotes sexual violence, and called on the Marine Corps to fully investigate. The Marine Corps Times, an independent newspaper focusing on issues involving the service, published an internal Marine Corps communications document with talking points about the issue, describing the social media network as a closed Facebook group with about 30,000 members. The network solicited nude photos of female service members, some of whom had their name, rank and duty station listed, the newspaper reported. A Marine Corps spokesman told the newspaper that military officials are uncertain how many military personnel could be involved. The chairman of the US House of Representatives Armed Services Committee, Republican Mac Thornberry of Texas, and the panel's senior Democrat, Adam Smith of Washington state, separately called for a complete investigation. "Degrading behaviour of this kind is entirely unacceptable," Thornberry said in a statement. "I expect the Marine Corps to investigate this matter fully with appropriate consequences for those who willingly participated." Smith also called for proper care to be provided to the victims, and said that, "This behaviour by Marines and former Marines is degrading, dangerous, and completely unacceptable." Officials from the Marine Corps Naval Criminal Investigative Service were not immediately available for comment. The site talked of misogynist behaviour, the Marine Corps document said, and the photos were on a secure drive in cloud storage, which has been removed. The document advised a response along the lines of: "The Marine Corps is deeply concerned about allegations regarding the derogatory online comments and sharing of salacious photographs in a closed website. This behaviour destroys morale, erodes trust, and degrades the individual." According to an annual report that the Pentagon released in May 2016, the U.S. military received about 6,000 reports of sexual assault in 2015, similar to the number in 2014, but such crimes are still underreported.